NEW BREMEN -- The Parkway Panthers softball team remained undefeated in the Midwest Athletic Conference posting a huge 7-1 road win over defending co-champions New Bremen on Tuesday afternoon at the Cardinal softball diamond.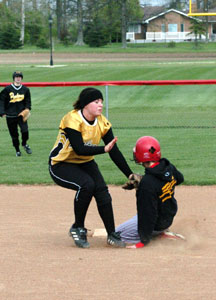 With the win, Parkway improves to 4-0 in the conference and 12-4 overall. The win sets up a big conference game on Thursday at Mendon with Versailles as the Panthers and Tigers are the only two remaining undefeated teams in the league. New Bremen falls to 2-2 in the MAC and 12-6 overall.
"Every win in the league is huge and I never expected to come down and have a seven-run lead going into the seventh inning," said Parkway coach Mark Esselstein. "I hope everything goes as well on Thursday."
Parkway received another solid pitching performance from Tiffany Steinbrunner. Steinbrunner pitched six shutout innings, allowing just three hits, walking three and striking out three.
Steinbrunner did have a few jams to escape from as New Bremen stranded 10 baserunners for the game. New Bremen had baserunners in six of the seven innings and stranded a runner at second or third five times. The biggest jam for Steinbrunner came in the second, trailing just 1-0, Megan Sindelar singled and stole second with one out. After Lindsey Bailey struck out, Jennifer Dick walked but Steinbrunner induced Julie Griesdorn to bounce out to end the inning.
"It was really tough out there today for the pitchers as cold as it was," said Esselstein. "Tiffany was not as sharp as she usually is but she got the big out when she needed it because New Bremen had plenty of runners on base but we stranded most of them."
"We didn't hit," said New Bremen coach Craig Griesdorn. "We had runners in scoring position and we didn't score, they made some nice pitches and made the plays defensively."
While Steinbrunner was containing the New Bremen offense, the Panther offense was clicking on all cylinders as they pounded nine hits and had 12 baserunners.
Parkway got the scoring underway in the first inning. Erica Yoder hit a sinking line drive that kicked by New Bremen rightfielder Kelly Steineman for a triple. Jayme Marbaugh plated the run with a grouind ball to short.
Parkway blew the game open scoring four times in the third. Laura Art opened the inning with a single and Erica Yoder connected for a one-out single. Marbaugh then came up huge again as she singled in a pair of runs with a single of he own.
After an infield single by Jan Boroff and walk to Steinbruner to load the bases, New Bremen got the second out of the inning on a force play at the plate.
Megan Smith plated a run when her groundball was booted at third and Ashley Gamble walked to drive in the fourth run.
"We put the ball in play and were aggressive on the bases," said Esselstein. "Erica and Jayme both had a couple of big hits. Even when we didn't get the sacrifice bunt down like I would of liked, we were still able to put the ball in play and moved the runners up and this was big differnce from the games that we lost. There are good outs and bad outs and our outs today were pretty good."
"We can't give a team like that extra outs like we did," said Griesdorn. "We didn't help ourselves though by not putting the ball in play offensively. When we were able to get the bat on the ball, we hit the ball hard but we hit it at people."
New Bremen is back in action today at Ansonia. Parkway is also on the road today as they hit the road to St. Henry for a non-league game.

Phone: (419)586-2371, Fax: (419)586-6271
All content copyright 2005
The Standard Printing Company
P.O. Box 140, Celina, OH 45822