By From staff reports
newsroom@dailystandard.com
With all the field events and just one running event going as finals on Tuesday, the battle for the honor of being best in the county has been tight.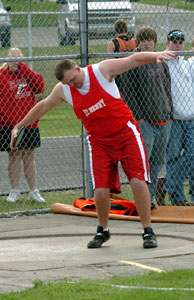 In the high school girls division, Coldwater is on top with 38 points, but Marion Local is close behind with 32 points. St. Henry (25) and Fort Recovery (24) are also close behind going into Thursday's running finals.
The high school boys' race is also tight. St. Henry is three points ahead of Coldwater, 40-37 while Marion is third with 20 with Parkway right behind in fourth with 19.
The Lady Cavaliers used depth to stay ahead, winning just one event on the day when Janelle Jansen broke her own meet record in the pole vault with a top vault of 9-6. Brittany Klenke placed second in both throwing events with Jansen also getting a second in the long jump.
Fort Recovery came up big thanks to Holly Stein as she won both the discus and shot on the day. Marion stayed close when Holly Fortkamp won the long jump and Jodi Winner took first in the high jump. The Flyers also won the 3,200-meter relay race. Marion will get plenry of points opportunities on Thursday in the running finals. Abby Schulte, who has been out for most of the season with injury, qualified for the 100 and 200 dashes along with teammate Susann Wolf, who also qualfied in the 300 hurdles for Marion.
St. Henry will also have plenty of chances to jump in the points standings as Catie Evers posted the fastest qualfying times in the 100, 200 and 400.
In the varsity boys meet, St. Henry dominated the throwing as Andy Buschur (shot put) and Steve Dailey (discus) alternated wins in the shot and discus.
Parkway countered with a 1-2 showing in the long jump. Jacob Fox edged out teammate Brandon Bowen by1ò4 of an inch to take the long-jump title.
Marion's Lee Schwieterman won the high jump as Coldwater's Ben Pax continued his dominance in the pole vault.
Parkway had strong days in the running prelims as Bowen posted top times in the 100 and 200. Fox dominated the hurdles with top times in the 110 and 300 hurdles for Thursday. St. Henry's 400 aces, Jon Hemmelgarn and Jared Stammen, qualified 1-2 in the 400.
In the junior high division, Fort Recovery's girls and Coldwater's boys are in the lead after Day One. The girls division remains tight as 19 points separates first from fourth place.
Coldwater's Adam Homan won both the shot put and discus titles as the lone doublewinner of the day in the junior high events.
The running finals will begin on Thursday at 5 p.m.
Phone: (419)586-2371, Fax: (419)586-6271
All content copyright 2005
The Standard Printing Company
P.O. Box 140, Celina, OH 45822