By From staff reports
newsroom@dailystandard.com
The Cavaliers stay perfect in the conference at 6-0 and go to 18-4 on the season. Minster falls out of the pack of second-place teams with Parkway and St. John's to go to 3-2 in the MAC and 10-7 overall.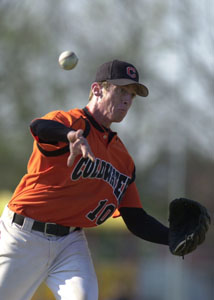 The Cavaliers chased Minster starter Nick Wyen after just 2/3 of an inning. Coldwater added seven more runs in the second and two more to trigger the run-rule.
Cavalier starter Matt Howell improved to 5-0 on the season with 41/3 innings of four-hit, two-walk baseball while striking out three along the way. Minster finally scored on Howell in the fifth and had two runners on with one out in the bottom of the fifth when Chad Geier came on in relief. Geier struck out both batters he faced to end the game.
Coldwater got two hits from Howell, Brad Heyne, Cody Muhlenkamp, Kyle Schoenherr and Brady Geier. Chad Geier and Muhlenkamp each belted home runs in the game.
Ty Parks had half of Minster's hits with a 2-for-3 day at the plate. Coldwater is off until Friday when the Cavaliers travel to Delphos to face Delphos St. John's. The Blue Jays suffered their first league loss of the season on Monday to Versailles. The game will be played in Stadium Park in Delphos.
Minster travels to Maria Stein on Friday for a MAC game against Marion Local. On Saturday the teams meet again in Minster, this time for a Division IV sectional game at Hanover Street Park.

BOXSCORE
Coldwater 570 20 -- 14 14 0
Minster 000 01 -- 1 4 0
WP -- Howell; LP -- Wyen.
2B -- CW: Siefring, Howell.
HR -- CW: C. Geier, Muhlenkamp.
Records: Coldwater 18-4 (6-0 MAC), Minster 10-7 (3-2 MAC).

BOYS TENNIS
'Dogs wrap up WBL season with win
The late-season surge of the Celina boys tennis team concluded with a 4-1 win over Bath on Wednesday. The NetDogs ended the season winning three out of the last four WBL series going into today's first day of the Wester Buckeye League tournament in Lima.
Brad Krick won his first singles match against Cam Knight 6-1, 6-7 (1-7) and 6-1. Neil Hoyng continued a strong season in third singles, beating Jon Benedict 4-6, 7-5 and 6-0 to help the singles go 2-1 for the day.
The first doubles team wrapped up the series win as Kyle Everman and Matt Stetler overcame a slow first set to win 3-6, 6-1 and 6-2 over Tyler Lamb and Greg Burleson. The second doubles team of Alex Ball and Ethan Westgerdes completed the strong day by beating Cody Miller and Steven Gullette 7-6 and 6-1.
The lone loss of the day came in second singles as Bath's Nick Gullette beat Brent Householder 6-7 (5-7) and 3-6.
The WBL tennis tournament will take place today and Saturday at the Collett Street Courts in Lima.
Phone: (419)586-2371, Fax: (419)586-6271
All content copyright 2005
The Standard Printing Company
P.O. Box 140, Celina, OH 45822