By Gary R. Rasberry
grasberry@dailystandard.com
NEW BREMEN -- It's amazing what one little break can turn into.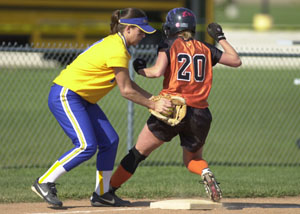 Trailing 1-0 with two outs in the bottom of the fifth inning of its sectional game with Marion Local, Minster caught a break when Laura Dircksen reached base on an error.
That break expanded with the next three batters as the Wildcats scored three unearned runs in the inning to come away with a 4-1 win over the Flyers in Division IV sectional action at New Bremen.
Minster (6-11) now plays Fort Recovery Wednesday at New Bremen for a sectional title while Marion's tournament run ends at 4-16.
Before the unearned runs, the game was shaping up to be a pitcher's duel between Minster's Erin Stueve and Marion's Melissa Otte. Stueve had a no-hitter going for the first four innings, striking out five before giving up a double to Lisa Siegrest that turned into the the first run of the game. After Siegrest's shot, Kelly Rosenbeck moved the runner up with a grounder to short. One play later, Kari Heitkamp grounded to second, allowing Siegrest to score the first run of the game.
Otte was helped by good defense throughout the game. Catcher Kelli Stucke made a diving grab in foul territory for an out in the fourth. Later in the inning, with runners on second and third, Kelly Pleiman made a great play at third and threw over to first ending the scoring threat.
Otte looked to set the Wildcats down in the bottom of the fifth after getting the lead. Natalie Brown grounded to second and Michelle Timmerman grounded to first for two quick outs.
Laura Dircksen came up and grounded to the circle, but Otte misplayed the ball and Dircksen reached safely. Maria Steineman came up and singled deep to center and with Dircksen on the move with two outs, scored from second base to tie the game up. Larua Morsey stepped up and grounded to third, but the throw to first was off-target, leaving all hands safe. Stueve helped her own cause, tripling deep in the right-centerfield gap to bring home both runs to make it 3-1.
"Their pitcher threw a heckuva game," said Minster coach Melissa Starkey. "I think we just kept fighting and kept fighting until we got one across. I always tell the girls once one little thing happens, another happens and another happens. Lots of times this year, it hasn't been positive. Today we were able to get something rolling and we kept going."
"Then it all happened," said Marion coach Gary Moeder. "The girls busted their rears to get into this game. The couple errors they had were (when) trying to make plays. It wasn't a lapse. ... The defense was there, it just wasn't in the cards tonight."
Insurance came in the sixth when Janel Baumer reached on an error and scored all the way from first on Eilerman's single.
"If not the best (performances this season), one of the best," said Starkey of her pitcher. "She had a rough day (Tuesday, against state power Crestview). We talked after the game about things she needed to do. She came out (today) and did what she needed to do."
"Give her credit. She kept us off-balance enough where we couldn't get solid contact," said Moeder. "Hopefully we'll get a chance to get them tomorrow night."
The rematch between these two teams is not far down the road as both teams meet in conference play today at Four Seasons Park in Minster.
Phone: (419)586-2371, Fax: (419)586-6271
All content copyright 2005
The Standard Printing Company
P.O. Box 140, Celina, OH 45822