By Shelley Grieshop
sgrieshop@dailystandard.com
Sunny skies helped warm up the large crowd that gathered on the Mercer County Courthouse steps Thursday to observe the National Day of Prayer.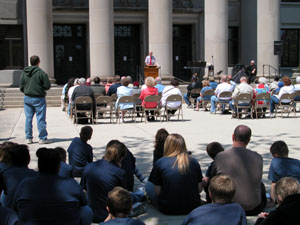 "I invite you to close your eyes and listen to what's around us," Pastor Jim Keiser said to the audience of all age groups.
After a brief silence, Keiser of Mount Tabor Church of God, continued: "What we hear is the sign of creation ... and we need to be reminded that this is a gift to us. We need to be reminded all that we have and all we are is a gift from God."
Keiser was one of more than a half dozen area pastors who spoke on various subjects throughout the hour-long Day of Prayer observation beginning at noon.
The topics included family, schools, law enforcement, churches, economy, the president/country/military and salvation. Music was provided by Crista and Amanda Heindel of Grace Missionary Church, Andy Piper of St. Paul's United Methodist Church and Marjie Mustard and Lisa Maples of The Lord's Church, all of Celina. The event was organized by the Celina Ministerial Association.
Pastor Bruce Head of Grace Missionary Church asked the public to pray for the family unit, reminded husbands and wives to "lay down their lives for each other." He also spoke about children.
"Children today are in a state of rebellion," he said, asking parents to give their hearts to their children and vice-versa.
Pastor Steve Moulton of First Presbyterian Church, Celina, told the crowd that attendance for all churches across the country has declined.
"We as communities of faith may be partly responsible for what's happening," Moulton said.
He explained how many times church leaders get caught up in the "ABC's" of church operations and forget what their purpose is.
"Help us to be leaders in our churches and in our community," Moulton prayed.
Pastor Mike Spencer, also of Grace Missionary, offered prayer to President Bush, his wife, Laura, and children. He urged the public to pray for our country's leader whether we agree with his actions or not.
"Lord, we pray he would have courage ... not concern himself with poll numbers but to please you," Spencer prayed.
County commissioners, law enforcement officers and other community leaders attended the afternoon prayer, as well as a group of children from Celina Christian School.
Phone: (419)586-2371, Fax: (419)586-6271
All content copyright 2005
The Standard Printing Company
P.O. Box 140, Celina, OH 45822