VERSAILLES -- Things didn't start out so well for the Parkway Panthers on Thursday evening, but they ended almost perfectly.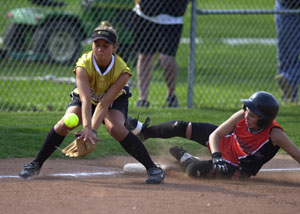 After yielding a first-inning run to Versailles, the Panthers' defense clamped down and their offense heated up to help them defeat the Tigers by a score of 6-1.
The win gives the Panthers control of their own Midwest Athletic Conference destiny, as they improve to 5-0 in the league and 13-5 overall. The Tigers suffered their first conference loss and saw their MAC record fall to 4-1 and their overall ledger drop to 13-7.
Versailles made what turned out to be its only dent in the scoreboard in the bottom of the first. The speedy Chelsea Mayer reached on an error, and after a sacrifice bunt and a groundout got her to third, Amber Voisard drove her home with a line-drive single to right.
The Panthers struck back in their half of the third. Ashley Gamble led off with a walk and was sacrificed to second before Brittany Young lined a single to left. Erica Yoder then plated both runners with a single and later scored herself on Jayme Marbaugh's RBI double. Meanwhile, Panthers starter Tiffany Steinbrunner settled down and went to work on the Tiger batters. After pitching to six batters in the first inning, the junior hurler faced just two batters over the minimum of 18 the rest of the way. Steinbrunner finished with five strikeouts while allowing just three hits and giving up just one walk.
"Tiff started mixing her pitches up a little bit and the defense did the rest," said Mark Esselstein, who recorded his 299th career win as coach of the Panthers. "For the most part, our defense has played really well all year. Tiff can get her share of strikeouts, but I'd rather see a three-pitch inning and let the fielders catch the ball and make their throws."
The Panthers tacked on some insurance runs in the last two innings. Sophomore Megan Smith led off the sixth with a shot over the left-field fence, and Gamble later scored the second run of the inning on Young's single. In the seventh, Smith notched her second RBI of the night with a single that drove in Katie King, who was running for Marbaugh.
"We hit the ball tonight, but everything was right at them," said Versailles coach Ron Mescher. "We had a few mistakes that cost us a run or two, but you've got to score more than one run or you're not going to win many ballgames."
For his part, Esselstein was just happy that things turned around after the rocky first inning.
"Versailles got off to a quick start and they were hitting every ball hard," said Esselstein. "It looked like it might be a long night the way we started, and we didn't get real good swings early in the game, either. Then we got some big hits that drove in runs to give us the lead, and we're always a lot more confident once we get the lead."
The Panthers can wrap up at least a share of the MAC crown on Monday, when Fort Recovery travels to Mendon to take on the Panthers. Versailles will host Newton in a non-league matchup today, and will try to stay within a game of the MAC lead when St. Henry comes to town on Monday.
Phone: (419)586-2371, Fax: (419)586-6271
All content copyright 2005
The Standard Printing Company
P.O. Box 140, Celina, OH 45822