By Margie Wuebker
mwuebker@dailystandard.com
Van Wert resident Don Reed never saw the menacing nail fly into his left eye, but he felt overwhelming pain and then a trail of wetness along one cheek.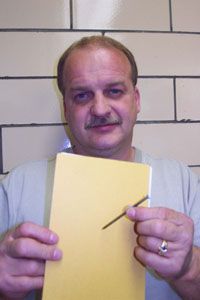 Dr. John Wilding, an ophthalmologist with Ohio Vision in Celina, recalls the call from an emergency room physician at Van Wert County Hospital.
"Most calls don't involve trauma to this extent," he says. "I remembered others like the 3-year-old girl who fell sending a metal rod through her eye and a fellow whose eyeball was crushed by a flying golf ball. Don fared much better than most."
The 42-year-old Reed, a self employed contractor, had been helping a friend remodel a garage the afternoon of March 16.
He deftly secured new trusses to existing ones with noisy bursts from a power nail gun. The 16-penny spikes, measuring 3 inches long, literally cut into the wood like a hot knife through butter. "One of the new trusses needed to go up higher so I started pulling nails," Reed says. "I had to pull and pry awful hard to get those nails out. I wasn't wearing safety glasses because they make my face sweaty."
The first two nails sailed over his head dropping harmlessly to the floor. The next two, at ankle height, did not have far to fall. He then went to work on the next set situated at eye level.
"I really had to push and pull," he says. "My knuckles smashed into the wood just as the nail took off like a bullet. Maybe the sheer force caused it to turn so the point came right at me."
Pain exploded in his head and he put a hand to his face, feeling only 1 1/2 inches of the 3-inch nail. He pulled it out with a firm yank and then wiped away what he believed to be tears and "some kind of gummy stuff that came out in a stream."
Reed, who quickly points out he is no wimp, went back to work. However, he peered through his right eye while trying to keep the left tightly closed, shutting out what seemed like a blurry fog. He climbed off the roof when his girlfriend arrived with eye drops.
"I was hoping the drops would stop the pain and watering," he explains. "That was the wrong thing to do; everything turned yellow."
Reed sent his girlfriend off to work, vowing everything was fine. He later asked her sister to take him to the emergency room due to the unrelenting pain.
His explanation regarding the accident drew a prompt "You did what?" from the hospital staff.
Wilding took one look into the damaged eye and sent the Van Wert man to Joint Township District Memorial Hospital in St. Marys for immediate surgery. They went into the operating room facing 50-50 odds of a successful outcome.
The painstaking procedure involved a side incision and then a myriad of tiny stitches in an eyeball that had little shape due to the loss of two fluids -- aqueous humor, a water-like substance that fills the front of the eye between the lens and the cornea, and vitreous humor, a jelly-like substance that fills the eye from the lens back. More stitches followed the introduction of replacement fluid to close leaks.
"You have to take baby steps focusing first on acute problems and then tackling other issues," the ophthalmologist says. "Fortunately the nail missed the iris and tore into the supportive tissue to the side."
Although Wilding had hopes of saving the eye and preserving as much sight as possible, he knew Reed might be faced with compromises in the future.
Additional surgery was needed during the ensuing weeks -- more stitches to close a tiny leak and then a trip to the Ohio State University Medical Center in Columbus for repeated zaps from a laser to repair a retinal injury.
Regular checkups will continue with the stitches coming out a few at a time over the course of weeks.
"This is one of those rare exceptions where a patient gets his vision back," Wilding says. "All the conditions were right."
Reed, whose vision tested 20/30 during a Thursday afternoon examination, admits he never had perfect 20/20 vision before the accident.
"God was on our side during the surgeries," the Van Wert man says as Wilding nods in agreement. "I had trouble seeing after the accident and that sucked. The world has never looked as beautiful as it does now."
Reed has become an outspoken supporter of safety glasses. Statistics indicate 90 percent of the 500,000 eye injuries occurring each year in this country could be prevented through the use of proper eye protection, according to the National Society to Prevent Blindness.
"I am one of those statistics and a lucky one at that," he says. "I learned my lesson when it comes to safety glasses. They are the first thing I put on in the morning and the last thing I take off at night."