By Janie Southard
jsouthard@dailystandard.com
A new crop of authors dined in style at Celina East Elementary School on Friday on everybody's favorite: pizza and cupcakes -- almost everybody.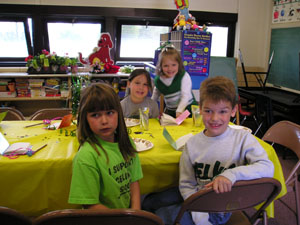 Jaime King, 6, "actually likes macaroni best," she said. But, most of the assembled group liked pizza.
"I like those little round, red things that sometimes hurt your tongue," Kyle Custer, 61ò2, commented as he scanned the classroom for paper plates.
Winners of the Write Now story contest were rewarded with a pizza party at school Friday. Write Now, a creative writing contest in its 24th year in the Celina district, is open to students in kindergarten through fourth grade. Works may include essays, plays, poems, short stories, novelettes or any combination at any length. This year there were 249 entries.
Young Kyle's story was a non-fiction effort entitled "Kyle's Adventure to the Fort Wayne Zoo." He saw tigers, monkeys and gorillas, but his particular favorite were the snakes because of their ability to "spit venom." His lunch mates, Jaime King, Maria Donovan and Jenna Berry gave him a steady "yuck" look and proceeded with their inspection of the sparkly pencils beside each place mat.
Jamie's story was called "My Day in Orlando, Fla." No, she was not born there, but she has visited that southern city.
"I have been there, but I came home. I'm going back though sometime," she said for the record.
Maria's "Gold Fishy" is a story of a goldfish, a pet with which she's familiar because she used to have one at home.
"I don't have it now. It got away," she said sadly.
Jenna's story "Firefighter" is one of unexpected heroics and sacrifice.
"Well, it's about a firefighter at McDonald's. There was a fire and people threw french fires on it and then some buns, but it wouldn't go out. So the firefighter poured a milk shake on it, and it did go out," said Jenna, who carefully stated her age as "six and three-quarters."
As the group wiggled in their seats at the long table decorated with balloons, vases of sparkles and confetti stars, the aroma of East of Chicago pizza was inviting.
Waiting is always the hardest part, said one tiny student as she twisted her pony tail.