By Gary R. Rasberry
grasberry@dailystandard.com
DELPHOS -- With a tournament game the next day, both Coldwater and St. John's decided to save their ace pitchers and go with who was next in the rotation, even with first place in the Midwest Athletic Conference in the balance.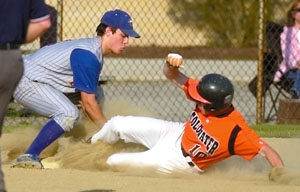 Both pitchers had quality games, but the Cavaliers were able to slip a few addition runs in to beat St. John's 4-1 at Stadium Park in Delphos.
The Cavaliers inch a step closer to clinching at least a share of the conference title at 7-0 with league games with New Bremen and Parkway next week. St. John's, needing a win to keep their chances at a MAC title alive, drop to 4-2 in the conference and 13-5 overall.
Coldwater coach Brian Harlamert, who has seen his team run-rule four of their six MAC opponents so far this season, was happy his team played a tighter game with a tournament game coming up.
"We knew we wanted to play a tight game before tomorrow's tournament game," said Harlamert. "They gave it to us. Two good pitchers who played well. (St. John's) made the catches they needed to make. Johnson (Nick Johnson) made a couple of catches that saved a few runs, maybe more. It was good for us to play a tight ballgame." Cav starter Gaston Pleiman and Blue Jay southpaw Adam Metzger came up with solid games. Pleiman improved to 5-2 on the season with six innings of six-hit ball. The lanky junior walked just one batter and struck out six along the way.
"He's been strong all year," said Harlamert. "The important thing is that he had one walk. He don't give up many free baserunners and the defense played well. We feel good about Gaston coming in for us the rest of the year."
Metzger worked hard to keep Coldwater from scoring. Coldwater had runners on the corners in the first, but Metzger got out of a one-out jam. Coldwater finally got a run in the third inning when Craig Wellman singled, moved up on a passed ball, then moved to third on a Troy Siefring flyout. A wild pitch brought the speedy (Continued from page 8)

Wellman home for the first run.
St. John's did not turn over, squaring the game in the bottom of the inning. Metzger singled for the second time in the game. Pete Collins singled to put runners on the corners for Johnson, who singled deep to left. Metzger scored easily and Collins made the turn for home. Wellman threw to Geier at short, who made the perfect relay throw to Ryan Gerlach at home to get Collins by plenty of steps.
Coldwater got the game-winner in the fifth. Geier led off with a single and moved to second on a steal. After Geier went to third on a bad throw. Matt Howell was credited with a ground-rule double after the ball went off the mitt of leftfielder Duane Wagner, scoring Geier easy.
Two more Coldwater runs came in the seventh as Metzger was finally chased from the mound. Johnson, who will start today's sectional game, came in for the last two outs.
"He did a good job in terms that his ball tailed away on the outside," Harlamert said of Metzger. "I think we played a good game while getting a lot of runs."
Geier came on in the bottom of the seventh to close things out, but St. John's kept fighting. Wagner walked to start things out. Josh Rose blooped a hit into short center, but Wagner was tardy making it to second, allowing Kyle Schoenherr to throw him out at second. Adam Hemker finished the game by grounded to Siefring at second, who threw to Howell for one out and then to Chad Miller at first for the game-ending double play.
"There are a very powerful offensive team," said St. John's coach Dan Metzger of Coldwater. "They hit some real long balls, but we tracked them down for the most part.
"We take some positives from the game. We have to learn from it. We've seen it and it gives the kids some confidence."
Geier finished the game 3-for-4. Howell and Wellman also had two hits. Metzger and Johnson went 2-for-3 for the Blue Jays.
Both teams head to Coldwater today for their Division III sectional final games. St. John's plays St. Henry in the opener at Noon at Veterans Field. Coldwater wraps up the day at 2:30 p.m. against Spencerville.
Phone: (419)586-2371, Fax: (419)586-6271
All content copyright 2005
The Standard Printing Company
P.O. Box 140, Celina, OH 45822