By Gary R. Rasberry
grasberry@dailystandard.com
COLDWATER -- A mix of performances were in effect at the Division III baseball sectional at Coldwater's Veterans Field on Saturday.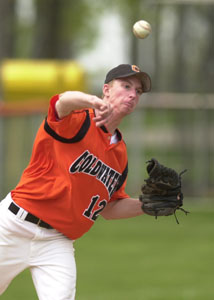 The end result is that St. John's will get a rematch with Coldwater on May 16 at Coldwater in the district semifinals.
Coldwater moved on in a style that has been the norm for them this season, run-ruling Spencerville, 10-0, in five innings in the second game in the afternoon.
The Blue Jays got 51ò3 no-hit innings from Nick Johnson, on the way to a 6-3 win over St. Henry.
St. John's 6, St. Henry 3
Johnson had the Redskins baffled for most of the day and it wasn't until there was one out in the sixth that Andy Puthoff doubled to break up the no-hit bid. Johnson promptly recovered to strike out Matt Dippold and induced a ground out by Alan Hartke to end the inning.
There was no sign of fatigue in the seventh as Johnson ended the game in style with with 10th, 11th and 12th strikeout of the game by fanning Jon Clune, Kyle Bruggeman and Andrew Huelsman in succession to end the game.
"Nick came out and was a little nervous," said Blue Jay coach Dan Metzger. "Being a sophomore and starting his first tournament game, he struggled with his control a little bit. He settled down a bit and got things going really good. He pitched a really great game. He really worked St. Henry's batters around."
"He dominated the game," said St. Henry coach John Dorner. "We're fortunate to be battling in the ballgame in the fourth inning and not have a hit yet. To have one hit in the game and still weren't out of it at the end of the game -- a couple guys get on and who knows what happens? We battled , but we just ran into a good pitcher. He did a nice job."
In spite of Johnson's gem, the Redskins were tied with the Jays at 1-1 through the first three innings. In the top of the first, Mike Gast walked and moved up one base on Brady Schmitz's sacrifice bunt. After a wild pitch moving Gast to third, he later scored on Andy Puthoff's long fly to right.
The Blue Jays evened the score in the bottom of the inning when Adam Henker led off with a triple and later scored on Pete Collins' single.
Schmitz allowed just four hits through the first three innings before trouble brewed. Johnson tripled but could not score as Gast recovered a wild pitch and threw to Schmitz for the tag. Adam Ricker and Dan McCormick followed with back-to-back walks before Andrew Pohlman singled home Ricker to break the tie. Josh Rose went to first after the umpire ruled Gast tipped the bat on a swing. Hemker came up and singled home McCormick to make it 3-1, prompting Dorner to bring in Huelsman to stop the spurt. After Pohlman was forced out at home on a grounder back to the mound, Collins singled home Rose to make it 4-1. Doug Hasenkamp grounded to short, but Schmitz, who switched with Huelsman, threw the ball over the head of 6-7 Alan Hartke at first, clearing the bases.
Pohlman and Rose, the eight and nine hitters in the Blue Jay lineup, stepped up with timely hits on the day. Pohlman singled in all three at-bats and drove a run in while Rose was 1-for-2 with a run scored.
"I usually put another senior in to DH for (Pohlman)," said Metzger. "I told him it was the seniors' time and he stepped up."
"You have to give some credit to the bottom of their order," said Dorner. "We thought the bottom of the order was nowhere near as good as the top of the order. At one point, the bottom three guys (seven-batter McCormick, who was 0-for-2 with a walk and run scored) reached base five of six times. When you have the bottom of the order get on like that so that the big guys knock them in, that's doing a great job."
Johnson stayed in control, but walked Ryan Hartke and Schmitz in the sixth. Puthoff stepped up and doubled deep to left center, snapping the no-hitter as Hartke and Schmitz scored to make it 6-3.

Coldwater 10, Spencerville 0 (5 innings)
Steve Borger recorded his second shutout of the week as the Cavaliers had little trouble dispatching a Bearcat team that came into the game 7-13.
Borger went all five innings and Cavs coach Brian Harlamert said that while Borger did not have his best outing, it was solid.
"I don't know if it was nerves," said Harlamert of his junior, who improved to 7-0 on the season. "He has pitched big games before, this being the biggest game. He didn't have his best stuff and he realized that if he just threw strikes and let our defense play, not many balls are going to fall in the outfield and very few will fall in the infield without someone on it.
" I think he started out a little shaky on the pitching side. Offensively, that's where we're going to do it," stated Harlamert.
If Borger was shaky, the Cavalier bats were not. Coldwater scored twice in the top of the first to get things started. With one out recorded, Troy Siefring reached when Tony Grigsby dropped a fly ball in left. Chad Geier followed by drawing a walk from Bearcat starter Brent Cook and Ryan Gerlach brought both home with a deep single.
Coldwater added three more runs in the third. Chad Geier was hit by a pitch, stole second and went to third on one of Cook's five wild pitches. Gerlach plated his teammate for the second time and later scored on Brad Heyne's sacrifce fly. Cody Muhlenkamp singled home Matt Howell, who reached of a fielder's choice.
After another run in the fourth, Coldwater scored four more in the top of the fifth to trigger the run-rule. Howell, pinch-hitter Nick Rengers and Brady Geier -- who was 3-for-3 with a pair of runs in the game -- all had RBI doubles in the inning, chasing Cook from the mound after giving up eight hits and nine runs.
Gerlach had two hits in two official at-bats -- walking the third time -- and plated three runs. Seifring was 2-for-4 with an RBI.
"The offense is there, and we're 104-of-111 on stolen bases coming into the game (and 5-of-5 on Saturday)," said Harlamert. "That team speed, you're not going to match it."