By Ryan Hines
rhines@dailystandard.com
MENDON -- The Fort Recovery softball team finds itself right back in the Midwest Athletic Conference title hunt after knocking off Parkway, 3-0 at Mendon on Monday.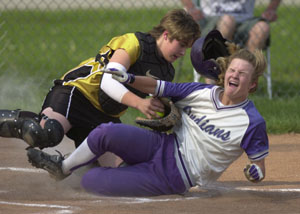 Parkway (13-6, MAC) had a chance to sew up at least a share of the MAC crown with a win on Monday, but Fort Recovery got a stellar pitching performance from Alyssa Tobe and a clutch hit from Krystal Rammel to vault itself into a first-place tie in the MAC standings along with the Panthers.
"Parkway is a great team and in order to beat a great team, you have to play great in all facets of the game and we were able to do that today," said Fort Recovery head coach Marie Osterholt. "It's obviously a huge win for us and we had big motivation coming into this game because we still had a chance to win the league. Now we just have to win one more game to at least get a share of the league title. Our girls want to win the league and we just have to keep playing well to make that happen."
"The MAC is awful good and every game is a battle and we knew coming into this game that they weren't going to give it to us and they played well," said Parkway head coach Mark Esselstein. "It's certainly disappointing that we didn't get the job done tonight but we're just going to have to get back at it. If you don't play well in this league, you're going to get beat. We had three hits and too many errors, so we got beat."
Fort Recovery (11-7, 5-1 MAC) can seal at least a share of the MAC crown on Thursday with a win on the road at Versailles, which lost to St. Henry on Monday. Parkway can also grab at least a share of the league title with a win over Coldwater on Thursday. Fort Recovery and Parkway are each looking to share the league crown for the second year in a row after the Indians and Panthers tied with New Bremen a season ago. Tobe, who struck out six for the Indians on the hill, kept the Panthers offense quiet allowing just three hits while getting flawless defense (no errors) behind her.
"Alyssa had great control out there and hit her spots and just kept her composure on the mound," said Osterholt. "Our defense kept their heads in the game and just played great behind her in the field."
"We were really pumped up before the game because we knew that we could still win the league," said Tobe. "We knew that our pitching and defense had to play good and we did that. I thought that I pitched well and I got a lot of help from my defense. I was able to move the ball in and out and up and down with the defense doing the rest."
"She (Tobe) hit her spots and I never felt that we were able to lock in on her at all," said Esselstein. "Three hits isn't going to get the job done."
The way that the Indians defense was playing behind Tobe, Fort Recovery didn't need much offense but they picked up all three of its runs in the third inning, with the three-run spurt coming with two outs.
Parkway's Tiffany Steinbrunner, who allowed six hits in the game, sent the first two Fort Recovery hitters down in succession before Renee Evers and Kristen Schwieterman each lined singles.
Krystal Rammel, who already had singled in her two previous at-bats, hit a screaming line drive to centerfield which got over the head of Parkway centerfielder Brittany Young allowing both Evers and Schwieterman to score easily while Rammel raced to third with a two-run triple. Young misjudged the ball in centerfield, charging initially on the play before retreating too late and watching the ball sail over her head.
Rammel then scored when Parkway committed one of its three errors in the game for the 3-0 advantage.
"Krystal is our most powerful hitter and she came through again for us with a clutch hit," said Osterholt.
Phone: (419)586-2371, Fax: (419)586-6271
All content copyright 2005
The Standard Printing Company
P.O. Box 140, Celina, OH 45822