By Gary R. Rasberry
grasberry@dailystandard.com
LIMA -- Opportunities. Celina had plenty of them in the Division II sectional final at Bath High School on Monday.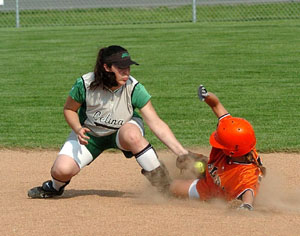 The Bulldogs had five hits and two walks off Elida pitcher Jeanne Hilvers, but left 10 runners -- five on second or third base -- stranded at the end of their at-bats.
Then, Melanie Heyne's bases-loaded walk to Elida's Samantha Conrad in the eighth inning brought in the winning -- and only -- run as Elida posted a 1-0 extra-inning win.
The Bath diamond has been a place of heartbreak to Celina (12-7) the past two seasons. Last season in tournament, Celina lost 1-0 to the host Wildkittens in extra innings. Now Elida (16-3) awaits the winner of Wednesday's game between Bath and Shawnee in the district semifinals next week.
The tournament run for Celina ends with a one-run loss, spoiling one of the best pitching performances from Heyne all season. Heyne went the first 6 2/3 innings without allowing an Elida hit. Cory Jones ended the no-no with a base hit off Heyne's leg in the seventh, but Heyne struck out Jamie Hollar to get out of the inning.
In the bottom of the eighth, Heyne started out by walking Ashley Jones. After Miranda Shingledecker came on to run, Brittany Nicols took an 0-2 offering over the first-base bag for a bloop single. Ashley Whalen came on and bunted both runners up.
With one out recorded, Celina opted to walk Hilvers to load the bases and set up the force out at all the bases.
Conrad came up and ran the count early to 2-0 before getting a called strike and a foul off. Conrad then took a low pitch for ball three. Heyne got the call from catcher Shay Adams behind the plate and fired but the ball came in and the home plate umpire called it ball four. Heyne and Adams protested, pleading that the ball was over the plate, but Shingledecker trotted home to end the game and leave Celina players and fans in shock.
"It was a little inside," said Conrad. "It was close, but I didn't want to swing at it just in case. ... We wanted this real bad."
"I told her (Conrad) in the timeout (as Hilvers was walked) this is why she's batting third (in the lineup)," said Elida coach Bob Elsass. "You've seen her enough times now. If you don't like something, take it. She worked her well. I'm sure that last pitch was close, but hey, I wasn't behind the plate."
The final inning was the only inning Elida was able to get a runner past second base all game. Heyne came up with a masterful effort in the pitcher's duel with Hilvers.
"She definitely took that one tough. She threw a nice game," Celina coach Brian Stetler said of Heyne's effort. "That was probably (her best effort). That's all you can ask for, to progress. It's tough to lose. I'm proud of the way they played."
From the start, Celina had chances to score and make the extra inning a moot point. In the top of the first, Jamie Siefker reached on an arror and Adams singled to put runners on second and third with one out. Hilvers promptly struck out Julia Siefring and Allison Braun to get out of the jam.
The same thing happened in the third. This time it was Allison Hoying on third after singling and Adams on second after Elida missplayed her bunt. Once again, Siefring and Braun struck out to end the inning.
"We had opportunities, and we had them slip away," said Stetler. "We could never string anything together. They were all spread apart. Elida's a good ball team. They've proven that.
"It's tough when you can't get the bat on the ball. Those situations usually come back to haunt you if you don't take advantage when you can," added Stetler.
"It wasn't the game I hoped for, but it was the game I expected," said Elsass. "You've got to give both teams (credit). Both teams came out ready to play. Their pitcher had us on the ropes the entire game. We finally put the bat on the ball in the fourth inning. You could see we were a little more comfortable in the batter's box. She's a nice pitcher. Celina's always a tough one. They've been a nemisis of mine for years in the tournament. It's nice to get a win against Celina."
Hilvers finished the game with nine strikeouts, allowing five hits and two walks.
Celina is back in regular-season play today, playing another team that was knocked out of the tournament by Elida in the form of St. Marys. The game is at Feth Diamond at Eastview Park.
Phone: (419)586-2371, Fax: (419)586-6271
All content copyright 2005
The Standard Printing Company
P.O. Box 140, Celina, OH 45822