By Margie Wuebker
mwuebker@dailystandard.com
Ricky Driskill appeared in Celina Municipal Court for a Wednesday afternoon arraignment wearing a brace to stabilize three fractured vertebrae in his neck. Assisted by a Mercer County Sheriff's deputy, he walked slowly to his seat.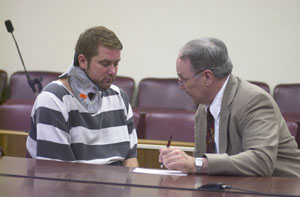 Driskill, a 27-year-old computer software salesman from Columbus, faces two counts of felonious assault of a police officer, both first-degree felonies, and one count of theft, a fourth-degree felony.
The charges stem from a May 1 incident in which Driskill allegedly lunged at a sheriff's deputy with a construction-type knife and was shot once by a deputy in the abdomen. The neck injury reportedly was sustained in one of two traffic accidents that day.
Judge James Scheer listened as defense attorney John Poppe labeled the $1 million bond sought by Mercer County Assistant Prosecutor Matt Fox as "outrageous."
"It is merely a ploy to make this man look like a real risk to society," Poppe said, turning to his client. "He has mental issues. There were things bothering him that night, and he was fleeing factors unknown." He labeled Driskill a successful business man with no prior criminal history who now finds himself in a jail that is not equipped to handle someone with a debilitating injury. However, he did acknowledge every effort has been made on his client's behalf.
Driskill, who is expected to undergo an evaluation by a forensic psychologist as soon as it can be arranged, would benefit from residing with family members in Winchester, Ind., as he deals with the pain of his wounds, according to Poppe. He proposed a "reasonable" $10,000 cash bond subject to the 10 percent down factor would accomplish that while making him more accessible to mental health professionals.
"Are the charges serious? Absolutely," the attorney added. "But he is still at the stage of being presumed innocent."
Fox was not at a loss for words when it came to explaining the reason for the $1 million bond request.
"These are the most serious offenses I have brought before this court," the assistant prosecutor said. "Without the results of a forensic evaluation, I fear for the safety of the public."
In response to Poppe's comments that Driskill should not be considered a flight risk due to job and residential stability during the past four years, Fox pointed out the confrontation with law enforcement officers occurred as the man was fleeing from the first accident scene. The flight came to an end after he crashed a pickup truck belonging to an emergency responder into a Wabash River embankment.
Additionally, Fox noted a different case involving a home invasion resulted in a $100,000 cash bond during an earlier proceeding. As for accessibility to the services of a forensic psychologist, the prosecutor noted sheriff's deputies transport inmates to such appointments in Lima.
Scheer set cash bond at $250,000 and commented he would like to see a forensic evaluation as soon as possible.
He explained a preliminary hearing set for 1 p.m. May 19 would determine whether there is sufficient evidence to transfer the case to Mercer County Common Pleas Court where felonies are handled.
If convicted of felonious assault, Driskill faces up to 10 years in prison and a $20,000 fine on each charge. The theft charge carries the possibility of an additional 18 months in prison and a $5,000 fine.
Additionally, Driskill faces misdemeanor traffic offenses of operating a vehicle under the influence, leaving the scene of an accident and willful and wanton disregard for safety.
Poppe reserved the right to plead not guilty by reason of insanity to the charges. Scheer indicated the lesser charges would be handled after the more serious felonies.
Authorities have not received the results of toxicology tests that would indicate whether Driskill was using alcohol or drugs at the time of the confrontation and the two accidents.
Phone: (419)586-2371, Fax: (419)586-6271
All content copyright 2005
The Standard Printing Company
P.O. Box 140, Celina, OH 45822