NEW BREMEN -- Just a little less than a month ago, April 14 to be exact, the Fort Recovery Indians softball team dropped its Midwest Athletic Conference opener to the Coldwater Cavaliers to fall to 3-7 overall.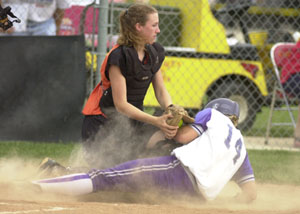 Tuesday, the renaissance that is the Fort Recovery softball team continued as they won their ninth game in a row as they defeated the Minster Wildcats, 3-2, to win the Division IV sectional title game at New Bremen High School.
Fort Recovery will play the New Bremen Cardinals Tuesday in the district semifinal game back at New Bremen. Before that, the Indians have a little matter of claiming a share of the MAC championship, as they can do that with a road win tonight at Versailles.
"A lot of little things have come together," said Fort Recovery coach Marie Osterholt in regard to her team's dramatic season turnaround. "Their mentality has changed, they want to win and they will do anything they have to do to make it happen.
"The offense has finally come around," continued Osterholt. "Early in the season we were only getting one, two or three hits a game and now we are getting four, five, six runs a game and that has been a key." Although the Indians were able to garner just seven hits off Minster starter Erin Stueve, they were able to bunch three hits in each of their scoring innings.
In the fifth with two outs, Kristen Schwieterman singled, stole second and scored on a base hit by Krystal Rammel. In the seventh, Krystal Rammel singled and scored when Stueve uncorked three wild pitches, making the score 2-0. Brenda Rindler singled and scored all the way from first on a single by Alyssa Tobe.
The two runs the Indians scored in the seventh proved to be huge as the Wildcats scored twice in the bottom half of the inning. Stueve reached on an error to start the inning and Janel Baumer singled Stueve to third. Lindsey Quinter then drove in a run with a single to make the score 3-1.
Leslie Muhlenkamp then lined out to Tobe at the mound, who then made a mistake as her attempt at a doubleplay at first went array as her throw went down the right-field line scoring Baumer and allowing Quinter to go to third with one out.
Tobe then bowed her back as she induced Courtney Eilerman to pop up to the catcher and struck out Michelle Timmerman to end the game.
"Those two runs that we scored in the top of the seventh were huge and the exact thing that we needed," said Osterholt. "We had to have them and we came through and got a couple of runs and that was the game.
"Another sectional championship feels great," continued Osterholt. "We're not done yet. The girls have set some goals and we're not done yet."
"We had a couple of scoring chances early in the game that we didn't capitalize on and that hurt," said Minster coach Melissa Starkey. "We had runners on a couple of times and we couldn't get a bunt down and that hurt. I'm still happy that we didn't lay down and that we fought to the end."
Minster had two great scoring chances in the fifth and sixth innings but came up empty. In the fifth, Baumer led off with a single but was doubled up when Indian first baseman Megan Wenning made a diving catch and threw back to second baseman Cierra Rammel at first to complete the double play.
In the sixth, Timmerman walked with one out and Laura Dircksen followed with a single. After a sacrifice bunt moved the runner up, Tobe induced Laura Morsey to bounce to short to end the inning.
Minster closes out MAC play on Thursday as it travels to New Bremen.
Phone: (419)586-2371, Fax: (419)586-6271
All content copyright 2005
The Standard Printing Company
P.O. Box 140, Celina, OH 45822