FORT RECOVERY -- Both the girl's and boy's track teams from Versailles used the same formula, depth and strong field-event performances, to sweep the 2005 Midwest Athletic Conference team titles Friday night at Barrenbrugge Park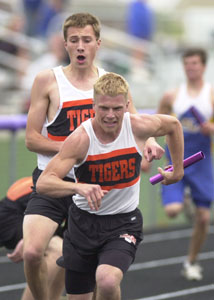 .
Boys
The Tiger boys won just two events, but were able to use their depth to roll up 141 points which was 18 points better than runnerup New Bremen. Coldwater was a close third with 94.5 points
"We won just two events but we were able to use our depth to win," said Versailles coach Steve Glasscoe. "We started real good on Wednesday when we got some huge points from our high jumpers Brian Schwieterman and Kevin Pohlman. We also got some points from our 3,200 relay that were huge. "I think the guys really used some motivation from a tough second-place finish last year," continue Glasscoe. "The guys really wanted to win this meet bad and they came through and did the job."
The only event wins for Versailles came in one of the first events on Wednesday as Doug Knapke won the shot put. The only other win for the Tigers came in the last event of the meet as the team of Ryan Langenkamp, Steve Winner, Clint Hufford and Travis Schulze won the 1600 relay.
Versailles scored points in 16 of the 17 events and was able to place two people in the scoring column in three events.
With champion Versailles winning just two events, the boy's side was highlighted by some great individual performances.
The top performance on the boy's side belonged to New Bremen's Troy Lammers. Lammers won his specialties, both the 110- and 300-meter hurdles. The Cardinal senior also added a fourth-place finish in the 100 meters and a fifth-place finish in the 200.
"I just wanted to get out to a lead and hit my stride," said Lammers. "I didn't really qualify well in the 110 but I ran a good race. I have a friendly rivalry with Jeff Hileman from Versailles and I just wanted to go out and beat him and I did."
One of the big upsets of the night came in the 800 meters where Coldwater's Kyle Rutschilling, who came in with just the fifth fastest time this season, blew away the field wining in a time of 2:00.45 which was a full second faster then runner up Austin Winner of Minster. Rutschilling's time was a full four seconds faster then his previous fastest time.
"This really feels great to win this race against a field like this one," said Rutschilling. "I told the coaches before the season started that I wanted to be MAC champion in the 800 and they had faith in me.
"I really wanted to use the wind to my advantage so I went out at a quick pace," said Rutschilling. "I wanted to get the lead and make every one else try to catch me and I knew that would be tough in this wind."
Brandon Bowen and Parkway teammates, Dallas Agner, Travis Vian and Jacob Fox set the only new meet record as they won the 400 relay in a time of 43.96, which was .18 of a second faster than the time set by New Bremen in 1988.
"We've been really training hard as a team," said Bowen. "This is our third year together and we have run a lot of meets together."
The story of 400-meter champion, St. Henry's Jared Stammen, is an interesting one after he won the title in his first year of track after playing baseball for three years.
"Jared had been playing baseball for three years and his teammate Jon Hemmelgarn convinced him to come out for track and he beats him for the league title," said St. Henry coach Mike Eyink. "I think Jared has a lot of upside and we're looking forward to good things from him in the next few weeks."

Girls
The win by Versailles snaps a seven league-meet win streak by Minster. The Tigers scored 141 points, which was 23 points better than the Wildcats.
"I didn't expect to win the meet, period. Much less winning by this kind of margin," said Glasscoe. "We really thought we could win the team title, I think we've been getting better the last three weeks and we're peaking at the right time."
"Versailles had a lot of depth in the finals and we really couldn't match their depth said Minster coach Kristin Heitkamp. "It seemed like when we would win an event they would place two people and all night long we were going two places for them for every one of ours.
"The girls gave everything they had," continued Heitkamp. "We just could not match their depth."
The team title was close going into the last three events to be scored, the 3,200-meter run, 1,600-meter relay and the pole vault as Versailles held a slim 116-112 advantage.
In the 3,200, Minster's Jenna Fausey placed third which was good for six points but Versailles countered with a fourth-place finish by Katie Mestemaker which was good for five points and a sixth-place finish by Kristin Phlipot which counted for three more points.
Versailles sealed the deal with wins in the 1.600-meter relay and the pole vault. The 1,600-meter relay team of Kylee Schlater, Sarah Hemmelgarn Jessica Schulte and Kayla Barga won in a time of 4:08. New Knoxville placed second and Minster.
Versailles closed the meet in strong fashion as Amanda Barlage won the pole vault in record vault of 9-9. Barlage's teammate Kelli Bertke placed in a three-way tie for third.
"We knew the 3,200 was going to be huge and Katie and Kristin came through for us," said Glasscoe. "It was a great day for our distance people and with them doing well we knew we were in good shape because we knew the pole vault was our ace in the hole."
"We knew we had to do well in the 3,200 meter and we went into the race at a disadvantage because my top runner was home sick and we had to run someone who had never run the race before," said Heitkamp. "Once the result of the 3,200 meters came in we knew the pole vault was a lock and that we were in trouble."