By Janie Southard
jsouthard@dailystandard.com
Susan Bobenmoyer Stump is legally blind, but she gets where she's going with the help of a big chocolate Labrador guide dog named Alley.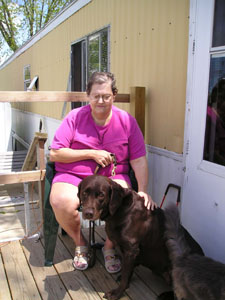 The two graduated from the Pilot Dogs Inc. Program in Columbus in October 2002.
"I rode down to Columbus on the bus by myself and returned a month later with Alley, just the two of us," said Stump, 58, whose loss of vision is a complication of the Type II diabetes she's had for almost 30 years.
After reading the article on Pilot Dogs and 4-H members that ran in The Daily Standard last week, Stump called the newspaper and agreed to provide first-hand information on what happens after the dogs receive basic obedience training from 4-H kids and are returned to the program's Columbus headquarters.
Stump of Celina, whose vision is blurred but not yet totally gone, was accepted into the program on recommendation of her optometrist, Frank Tangeman, and based on a home visit and interview by Pilot Dog staff members. "They needed to make sure I was able to walk and was strong enough to manage the dog on a harness. Plus, that I would be able to get the dog to the vet every three months. But first I had to be able to get around town with a cane," said Stump, seated on her porch near the lake with Alley stretched out at her feet.
Because she had had no experience using a cane, let alone using one well enough to get around town, help came from the Mercer County Council on Aging which arranged for an instructor from Lima to teach her.
Finally she arrived in Columbus, where someone from Pilot Dogs met her at the bus, and she began four weeks of training on how to handle a guide dog.
Pilot Dogs was chartered in Columbus as a non-profit organization in 1950 and was partially funded by Perk Foods, Chicago, with a label return program for Vet's dog food cans that sparked a return of 850,000 labels ($60,000).
Also, several Lions Clubs took up the project donating time and money, and after a while at the State Convention of the Ohio Lions the program became Lions Pilot Dogs. More than 500 clubs now support the program.
The first training class was housed in the Columbus home of Harold Fawcett. It is at this site on West Town Street that the present organization headquarters are located.
Stump spent a month training, getting Alley on the third day. Not all dogs work out as expected. Stump said a poodle was taken out of the program after he unexpectedly became "jerky and jumpy" at traffic noise.
"Part of our training too was traffic noise. You know where you're going or how to get there. That's up to you. You are the one who listens for traffic and other sounds so you can figure out which way to go. The dog's job is to steer you around obstacles in the path," she said, giving Alley a pat on the head.
And that's a pilot dog's best reward: a pat on the head, a gentle ruffling of ears and a "good dog."
The dogs are smart and tolerant, as Stump illustrated with a couple stories.
During training, she and Alley were taken to an unknown park area and escorted around once by a sighted trainer.
"About halfway through I got tired, and Mike, my trainer, saw I was tired and took us to a bench to rest. A few days later when Alley and I went through that park by ourselves, she went right to that same bench and waited for me to rest," she said.
A favorite story of Stump's involved her (then) 2-year-old granddaughter Kara Eyanson.
"We hadn't had Alley home very long when Kara came over and saw the dog laying on the floor. She went over climbed on Alley like you would a horse, grabbed the harness and said 'go.'
"Alley got up real easy and walked around with Kara on her back," Stump said. "We still laugh about that."