By Gary R. Rasberry
grasberry@dailystandard.com
MINSTER -- Marion Local coach Chad Wells knew that he was going to see a strong pitching performance from New Bremen ace Alex Leugers during Monday's Division IV district semifinal at Hanover Street Park in Minster.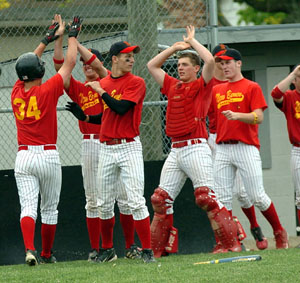 However, Wells wasn't expecting Leugers to be the hitting threat he turned out to be on Monday.
Leugers, batting in the bottom of the order and well below the Mendoza Line of .200, belted a pair of doubles and drove in three of the Cardinals' five runs to help his cause in a 5-1 win over Marion Local.
New Bremen (14-9) advances to its first district final in at least 10 years on Friday at Coldwater's Veterans Field. The Cardinals will play Crestview, which beat Ottoville 11-0 on Monday night in Convoy to make the trip from the Crest-view bracket. In that game, Mark Miller struck out 11 and pitched a no-hitter for the 14-8 Knights. The game on Friday starts at 5 p.m. Marion Local falls to 14-10 on the season.
Leugers, a .152 batter with no extra-base hits and seven RBI before Monday, peppered the outfield to pace the Cardinal hitting attack. "I keep telling him all season I put him in the bottom of the order for a reason," said Cardinals coach Justin Firks. "He's got a little pop when he connects. You look at him tonight, hitting and pitching-wise, he did it all. He basically carried this team tonight."
"I've been struggling all year, but coach keeps me in the lineup," said Leugers, who went 2-for-3 and raised his average 42 points. "It all paid off tonight."
The Cardinals were already up 1-0 in the game -- thanks to Brian Garman's first-inning single that scored Andy McMurray -- in the fifth when Leugers' bat struck. With one out and Scott McCollum on second after being hit by a pitch and moving up on a wild pitch, Leugers took Kyle Moeller's 3-1 offering deep to center, coming up just short of hitting the 380 mark of the field. McCollum scored easily to make it 2-0 as Leugers left for pinch-runner Dustin Bruggeman, who later scored on McMurray's single.
The bigger hit came in the sixth. With Logan O'Neill and Jason Keller on with two outs, Leugers hit one to center that Mitch Thobe could not get to on the dive. Both runners came in to score as Leugers reached second standing up.
"That's the game of baseball," said Wells of Leugers' hitting. "You have that sometimes. He pitched a whale of a game and did enough with the bat too."
That was all Leugers needed to get through the Flyers offense. Leugers, who will attend Xavier next fall, was helped by some strong defense to keep Marion off the bases. Leugers allowed just three hits in the game and struck out three as he kept the Flyers from scoring until the fifth.
Leugers had just 70 pitches through four innings when the Flyers tried to make a comeback. John Alexander started the fifth with a walk and went to second on Andy Kuether's infield single. After Chris Wenning struck out, Marc Otte moved the runners up with a sacrifice bunt. Thobe stepped up and singled past the shortstop to score Alexander to make the score 3-1. Joe Kemper tried to put his hit in the same region, but Cardinal third baseman Todd Keller dove to his left, grabbed the ball, and tagged Thobe coming to third to get out of the game.
"I don't think he had his best stuff tonight by any means," said Firks of Leugers. "He labored a little. To Marion Local's credit, they battled.
"We had fantastic defense. Craig Eiting had a great catch in centerfield. The middle infielders (Todd Keller at short, Garman at second) played pretty well making routine catches. Jason Keller had a great scoop catch at first. The defense was there. The pitching was there and timely hitting -- that's our motto all year," added Firks.
"Hat's off to them, they played an outstanding game," said Wells. "They deserved to win this game. They played the better all-around game."