By Margie Wuebker
mwuebker@dailystandard.com
The return of warm weather signals another season of boating fun on scenic Grand Lake.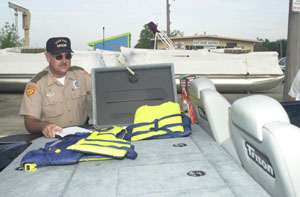 And Saturday kicks off the local observance of National Safe Boating Week, aimed at making sure a pleasurable experience does not turn tragic.
Ohio Department of Natural Resources (ODNR) Division of Watercraft officials have expressed safety concerns in the wake of three boating fatalities that occurred in recent weeks at state park lakes.
The leading causes of boating-related fatalities include individuals falling overboard and boats capsizing. In each of the recent fatalities, two of which occurred on Grand Lake, none of the victims were wearing life jackets.
Two Celina High School freshmen -- Jonas Kahlig and Greg Parker -- drowned April 8 after their small johnboat capsized. The pair set out from Coldwater Beach near Montezuma intending to fish before meeting friends at a designated location along state Route 703 in Celina. The boys never arrived and the boat along with life jackets and two shoes were found washed ashore hours later. Their bodies were recovered 13 days later. The latest fatality occurred May 1 when a 24-year-old Lancaster man drowned at Buckeye Lake, east of Columbus, days before his wedding. He and a friend landed in the water when their boat capsized. One man pulled on a life jacket and was rescued by another boater; the other disappeared beneath the water while struggling to don the safety device.
"We will inspect approximately 70,000 boats this year," says Marilyn Hinderer, area supervisor for the division's Springfield-area field office. "We began doing ramp inspections in 2001 in an effort aimed at reducing boating fatalities."
The number of fatalities that had peaked at 73 dropped to just seven in 2004, according to Hinderer, who oversees watercraft operations at Grand Lake as well as nearby Lake Loramie and Indian Lake.
"We have no plans to scale back our efforts with three drownings already on the books for 2005," she adds. "There is a need to educate the public before another tragedy occurs."
Free boat inspections will take place locally to coincide with the weeklong safe boating observance. The first takes place 10 a.m. to noon Saturday at the East Bank ramp with the second set May 27 during the same hours at the West Bank ramp.
Boat safety inspectors, from the Division of Watercraft, U.S. Power Squadrons, the U.S. Coast Guard Auxiliary and local marine patrol units, look for properly working safety equipment including fire extinguishers, life jackets, horns and lights. They do not issue citations but provide a written inspection report that helps boat owners and operators make recommended improvements.
"When we launched these inspections in 2001, one out of every 25 boats did not pass our safety checks," Hinderer says. "The word has gotten out in regard to ramp checks and more people are taking the time to make sure they meet safety regulations."
Ramp inspections also take place regularly during the boating season. The most common violations include the absence of safety equipment including life jackets, fire extinguishers and an anchor in the event the motor stops for some reason.
"People simply do not take the time to equip their boats properly and address the issue of safety," Hinderer says. "Violations are a lot like dominoes. One may not create problems but more exacerbate problems leading to a domino effect."
Both Hinderer and Grand Lake St. Marys Park Manager Craig Morton warn prospective boaters to treat the local lake with respect.
"Being an inland lake, some people consider Grand Lake St. Marys to be tamer than other bodies of water," Morton says. "Being almost nine miles long, two miles wide and covering some 13,500 acres, it can kick up some mighty impressive waves."
The wind can pick up quickly as it did over the weekend when several unidentified boaters reportedly took refuge on Safety Island when menacing white caps threatened their watercraft. They later returned to shore after alerting relatives via cell phone.
Morton also stresses the importance of setting sail in the right kind of watercraft -- one that can handle waves stirred up by changing weather conditions.
"Generally the bigger the boat the better when you head to open water," he says. "The more freeboard above the water the better. Shallow boats are not designed for choppy water."
Hinderer also suggests taking time to practice donning life jackets.
"Consider it a skill test," she says. "Practice can cut the time needed to 30 seconds or less. You may not have a minute or two in the event you land in the water."
Phone: (419)586-2371, Fax: (419)586-6271
All content copyright 2005
The Standard Printing Company
P.O. Box 140, Celina, OH 45822