By Gary R. Rasberry
grasberry@dailystandard.com
ELIDA -- For the first three innings, it appeared that Parkway was going to be the victim of deja vu.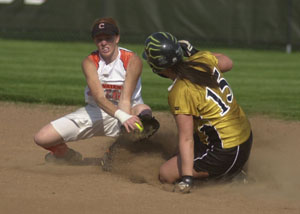 Coldwater, just as it did last Thursday in regular season action, had a decent lead while the Panthers were able to get runners on base, but not around to score.
Then in the fourth, deja broke down and fell to the wayside, and vu was close behind. The Panthers got a run in the fourth and scored three times in the fifth to take the lead. Two insurance runs in the seventh sealed Parkway's 7-3 win in the Division III district semifinals at Dorothy Edwards Field in Elida.
The Panthers (16-7) now travel to the other side of Lima on Thursday to face Delta at Bath High School in a district finals contest. Delta improved to 24-3 with a 2-1 win over Fairview at the Archbold sectional.
The big difference in the game from Tuesday and last week's game was that the Panthers were hitting. Even when not getting runners around, Parkway was able to get four hits through three innings. "I liked the way we were hitting," said Panther coach Mark Esselstein. "We made base-running mistakes. We did get three straight hits, which we didn't even come close to doing last week.
"I felt we were locked in at the plate. We were going to score runs."
Those runs began to come in in the top of the fourth. With Coldwater leading 3-1, Jan Boroff led off with a single. Jen Murphy looked to make the sacrifice bunt, but Renee Hemmelgarn missed the throw at second, allowing Boroff to reach third. Kristin Roth, the hero of the sectional final win last Wednesday, lofted a fly to center deep enough to score Boroff to cut the deficit to one.
Things got even better for Parkway in the fifth. Erica Yoder led off with a single, went to second on a wild pitch and moved to third on Jayme Marbaugh's bunt. Cavalier starter Amber Heyne began to get wild, throwing two wild pitches to score Yoder and tie the game.
Tiffany Steinbrunner then singled, prompting Coldwater coach Jack Mescher to call on Brook Gross, who beat Parkway last week, to get out of the jam. Gross walked Jan Smith and Boroff before Murphy came up and singled home Steinbrunner, but Smith got hung up coming home and was tagged out trying to go back to third. Leah Unger, running for Boroff, later scored when Coldwater forgot to get the ball back to the circle after trying to get Murphy out at second.
"I knew it was going to take more than 2-3 runs to win this one," said Esselstein. "Top of the order just hit the ball very well (the first four batters -- Young, Yoder, Marbaugh and Steinbrunner -- were a combined 7-of-14 with three runs scored). We set the table, executed on bunts (Parkway had five sacrifice bunts), got some big two-out hits."
"Tonight they put them together," Mescher said of Parkway's hitting. "A few mistakes against a team like Parkway will come back to bite you in the end."
Meanwhile, Steinbrunner clamped down on the Cavaliers after the third inning. After giving up six hits in the first three innings, Steinbrunner allowed just two more hits in the final four innings, striking out four along the way.
"Big-time weight off her shoulders," said Esselstein. "I think she was just getting mad at herself, giving them good pitches to hit. They're a good hitting team. Coldwater doesn't try to overpower the ball, they stay back and put it up the middle."
"She's a nice pitcher," said Mescher of Steinbrunner. "You have to give her credit for making the pitches when she needed to make them and had a good defense behind her. Put those two together, and it's a good team."
In the seventh, insurance runs came as Roth drove in Smith and Murphy with a one-out single after the two reached on base hits.
"All the girls did a nice job, especially the seniors," said Mescher. "The five seniors did an awesome job this season. They'll leave a legacy for Coldwater to live up to."
"Kristin came up again with a big hit to give us breathing room," said Esselstein. "Coldwater loaded the bases in the bottom of the inning. Those extra two runs made a huge difference.
"Our kids stayed mentally tough, fought back and got the job done."