By Ryan Hines
rhines@dailystandard.com
NEW BREMEN -- The longest tournament run in New Bremen softball history took another step forward on Tuesday as the Cardinals erupted for seven runs in the second inning and went on to a convincing 12-2 five-inning win over Fort Recovery.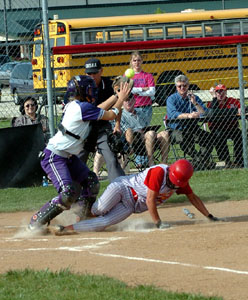 New Bremen is back in Division IV tournament action on Thursday for a shot at a first-ever district title when the Cardinals face Spencerville (11-10), which beat Lima Perry, 5-2 on Tuesday.
"We've never made it this far in the tournament, we've never made it out of sectionals before, so I've just been telling the girls to enjoy the moment," said New Bremen head coach Craig Griesdorn.
The Cardinals made quick work of Fort Recovery, the outright Midwest Athletic Conference champions from this year, by scoring seven runs in the second inning with a lot of help from Indians errors.
Fort Recovery made five errors in the second inning (six for the game) and New Bremen cashed in for six unearned runs in the frame. Erika Bell had a two-run single to highlight the inning for the Cardinals while teammate Julie Griesdorn connected for an RBI single. "We were flat and everything that could have gone wrong, went wrong," said Fort Recovery head coach Marie Osterholt. "We just didn't play the game. We were tight, we weren't lose and we just weren't ready to play. Once we made our first error, we tightened up and it just got worse from there."
The seven-run second inning gave the Cardinals a 9-0 lead after scoring a pair of runs in the first inning on an RBI single from Audrey Michael and a balk.
"They beat us 2-0 earlier in the year and we just wanted to go out and have some fun," said Craig Griesdorn. "I thought that it would be important for us to score early and we were able to do that right off the bat in the first inning with three straight hits after two outs were recorded. It just seemed to snowball after that. We just kept putting the ball into play and that's what you have to do to win."
Fort Recovery, down 10-0 entering the fourth inning, scored its two unearned runs on a trio of New Bremen errors. Other than the defensive miscues in the fourth inning, New Bremen kept Fort Recovery off the basepaths for the most part.
Julie Griesdorn was a big factor in holding the dangerous Fort Recovery defense in check. Griesdorn went all five innings allowing just four hits and two walks in an efficient performance on the hill.
"Fort Recovery is a very good hitting team with a lot of good athletes so we knew that we had to keep the ball down to them and Julie was able to do that," said Craig Griesdorn. "We made the plays defensively and when your pitcher's hitting her spots, it makes the defenses job easier."
Ciera Rammel led Fort Recovery's offense with three infield singles. While New Bremen didn't have anyone player with multi-hit games, the Cardinals came up with a hit from every position in the lineup except for two positions.
Phone: (419)586-2371, Fax: (419)586-6271
All content copyright 2005
The Standard Printing Company
P.O. Box 140, Celina, OH 45822