By Shelley Grieshop
sgrieshop@dailystandard.com
ST. MARYS -- Ronda Shelby didn't want to say it.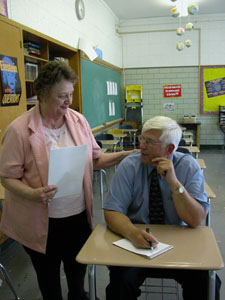 With a convincing poker face, she spoke only kind words about her former student, Dennis Vossler. As co-workers now at St. Marys Schools -- he the assistant high school principal and she an eighth-grade reading and writing teacher -- some things are better left unsaid, she thought.
And then Vossler spilled the beans.
"She was one of the few teachers who paddled me," he blurted out.
Shelby's face turned red as she laughed loudly, drawing curious stares from nearby students serving detention outside Vossler's office. The educators are longtime friends, each teaching one another's children through the decades. Heck, they're even neighbors, and with a combined total of 75 years in education, they will retire together this year from the St. Marys School system.
"I've got 31 years, a paltry 31 years in comparison to Ronda," Vossler, 53, added with a laugh.
He couldn't recall what brought the paddle to his behind during one of the two years Shelby honed his reading and writing skills.
"It was probably for throwing paper wads or something like that," he said, squirming a bit in his chair. "Of course those were the days when you got in trouble at school and were in worse trouble when you got home."
Shelby, 63, sat across Vossler's desk, her short stature preventing her feet from touching the floor. After 44 years and thousands of students, she's remarkably bubbly with an easy-going flair.
"I remember her being very enthusiastic," Vossler said, as he recalled his school days in St. Marys. "She's always been a fireball. It's amazing she's been able to carry that this long."
School superintendent Ken Baker agrees.
"In my 27 years in education, Ronda is by far the most enthusiastic person I've ever met," he said. "I hope and pray the good Lord gives me that same energy when I reach that point."
Baker said he'd heard the paddling story before. "If Ronda paddled him, there's no doubt he deserved it," he teased.
A popular football coach, Vossler is known for wielding a yardstick as he patrols the hallways and student parking lot. The stick now measures just 34 inches from wear and tear, Baker surmised.
"He's got a habit of swinging that thing like a golf club or a fishing pole. Guess that's what he does when he can't do his two favorite things," he laughed.
Vossler and Shelby agree the biggest education problem today derives from the lack of healthy family environments.
"There's a lot on people's plates these days," Vossler said. "Teachers are asked to do more than in the past... . Not only are we math and science teachers, but we're held responsible for other things in our student's lives."
Shelby said she was shocked 13 years ago when talking to her class about setting the dinner table.
"One of my students asked, 'What is that?' His family ate in front of the TV every night," she explained.
After the shock wore off, she realized the same scenario was going on in many homes, so she decided to teach her students the social graces of dining, dating and even attending a funeral.
Each year since, her English students have come to her home for a seven-course meal. Their parents help provide food and serve the event. "I taught most of them, too," she added with a grin.
Shelby will continue helping others as she concentrates her efforts now on mission work at Grace Missionary Church in Celina. She'll also spend more time with her husband, Larry, and their four adult children and nine grandchildren.
Vossler plans on enjoying the company of his wife, Pam, a grade-school teacher with a few more years to teach, and the couple's three children. Their youngest child is high school senior, Corey, a stand-out quarterback for the football team.
Vossler said he'll gladly trade in his yardstick now for a real golf club and fishing pole.
"Other than that, I'll do exactly what my wife tells me to do," he laughed.