By Lance Mihm
lmihm@dailystandard.com
WAPAKONETA -- New Bremen has flirted with greatness a few times in its relatively short history with a girl's high school softball team.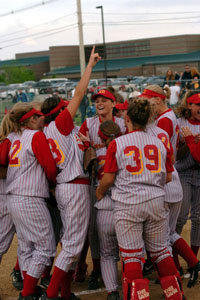 In its Division IV District final against Spencerville Friday, the program may have finally knocked down the door to greatness.
In an outstanding battle of young pitchers, New Bremen sophomore Maria Staton outlasted Spencerville's Haley Keller for a 2-0 win.
The Cardinals (18-7) now head to the regional semifinals on Wednesday at Wayne High School in Huber Heights. New Bremen plays Bradford at 5 p.m. The Railroaders beat Cincinnati Christian 4-0 to move on. The Bearcats end their season at 11-11
While Keller limited New Bremen's offense with trickery by offering varying speeds of pitches, Staton dominated by using simple brute force. She spent the day blowing pitches by Spencerville batters, with the exception of the occasional changeup. Staton allowed only two hits while striking out 11 of the 24 batters she faced. "Both pitchers pitched a fine game," New Bremen head coach Craig Griesdorn said. "Staton kept the ball down and threw hard."
While most teams predominantly use one pitcher all season, Staton has added depth to the team alongside pitching ace Julie Griesdorn.
"Having pitching depth can be tremendous for your team," Griesdorn said.
The Cardinals took advantage of two situations to seal the win. While Keller only recorded one strikeout, her mix of speeds forced the Cardinals mostly into weak grounders and cheap pop-ups for the first four innings. They found a hole and crawled through for two unearned runs in the fifth inning. Megan Sindelar reached on an error by the second baseman and advanced to second on Erika Bell's perfectly executed sacrifice bunt. Number nine hitter Jennifer Dick then sent a screamer over the left fielder's head to score the games first run. Griesdorn followed with a one-base stroke into left center to account for the only scoring in the game.
Rachel Clum led of the sixth with a walk and moved to second on Tara Staples' bunt, but Griesdorn made a spectacular catch of Jenny Ball's liner at second base and doubled up the hapless runner. The catch ended the inning, and more importantly, took the wind out of the Bearcat sails.
"When you get this far in the tournament, you have to do the little things to get by," Griesdorn said. "We had the number nine hitter get a hit. We told her she needs to set the table for the top of the order and she did. We had the nice bunt to move the runner the battler before that and that catch was a big out."
The win gave the softball program two firsts, eclipsing their former record of 17 wins in a season. It was also the first district title in school history.
Phone: (419)586-2371, Fax: (419)586-6271
All content copyright 2005
The Standard Printing Company
P.O. Box 140, Celina, OH 45822