By Gary R. Rasberry
grasberry@dailystandard.com
COLDWATER -- To get to the regional tournament, New Bremen baseball coach Justin Firks needed a strong game from pitcher Alex Leugers.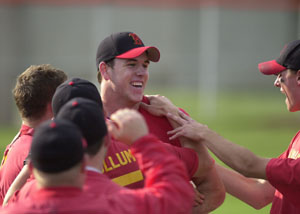 Leugers delivered, and then some.
Leugers, backed by a strong defense, pitched his first varsity no-hitter as the Cardinals won the Division IV district title with a 1-0 pitchers' duel win over Crestview at Veterans' Field in Coldwater on Friday.
New Bremen, playing in the district finals for the first time since 1980 after winning its first sectional title since 1991 , improves to 15-9 and faces the winner of today's Jackson Center-Summit Country Day district final at Covington on Friday at 5 p.m. at Wayne High School in Huber Heights. The Knights, who have been regulars at the district finals the past several years, ends the season at 15-10.
Leugers, coming off a sluggish -- but effective -- outing against Marion in the district semis, stepped up to the challenge, throwing 61 of his 89 pitches for strikes in the game, striking out six along the way. The only way the Knights reached base was due to two errors, two hit batsmen and a walk, but after the first inning, there were no major threats to score. The defense also came up with a nice game. Shortstop Todd Keller made a sliding stop of a shot up the middle in the sixth that robbed Matt Miller of a likely base hit. Keller had six big putouts in the game as Leugers had just two flyouts.
"That was great," said Leugers after receiving the district trophy. "We played great defense. They would have had the hit if Todd hadn't made a spectacular play up the middle."
Miller, who threw a no-hitter on Monday to put the Knights in the finals, had a game that would have won most other games. The senior signee to Huntington College struck out 11 and had a no-hitter until the all-important fifth
inning.
After getting two outs in the fifth, Todd Keller finally broke the string with a single up the left side of the infield. Scott McCollum followed with another single to put runners on second and third. Firks decided to try a trick play to break Keller home. McCollum took off early and tried to get hung. Miller turned and looked to throw to second, but his throw went left of the base and into centerfield. Keller dashed home easily for the only run of the game.
"I was giving the batter (Jason Keller) one pitch to swing and he was down 0-1," said Firks of the scoring play. "We've ran that play several times. If you run it right, it's pretty hard to defend. Pitcher didn't handle it well, threw into center and gave us that run."
"He's a fantastic high school pitcher," Firks said of Miller, who did not walk a batter and scatter three hits. "He throws fastballs and curves, all for strikes. He gets ahead early. I knew when we got guys on first and third, we had to try something."
With the lead in hand, Leugers got stronger. In the bottom of the fifth, only Jordan Lytle getting hit by a pitched marred a 1-2-3 inning as Leugers got solid defense. In the sixth, it took just 13 pitches and three grounders to Keller at short, including the hit-saver from behind second base, to retire the Knights.
In the seventh, Leugers struck out Matt Perkins for the first out and enticed Matt Myers to ground to Brian Garman at second. Derek Holden then grounded to Keller, who could not pick up the ball and was charged with an error. Leugers ended the game by getting Briggs Orsbon to fly out to Craig Eiting in center to end the game and begin the celebration.
"My adrenaline started pumping those last innings," said Leugers. "I was just thinking about going after them with fastball, fastball and fastball. I didn't throw a curve that last inning."
"Considering the pressure that was on him, it was probably one of the most remarkable performances I've seen out of a pitcher in a high school game," said Firks of Leugers. "I've seen no-hitters before, but never in a district final against a team like Crestview. He's struggled his last couple of outings, but tonight he came to pitch. He did a fantastic job. He shut down a pretty good-hitting offense. He definitely gets the game ball tonight."