By Shelley Grieshop
sgrieshop@dailystandard.com
ST. HENRY -- Pat Hemmelgarn was awed and proud when the uniformed soldier gave him a firm salute Sunday morning at the American Legion.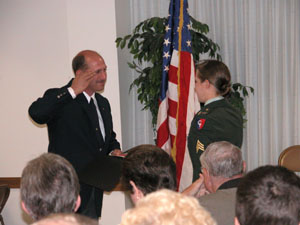 A hug and a kiss would have been less a surprise from Sgt. Noel Zimmerman -- his daughter -- as he handed her a Blue Star banner during the Blue Star Salute ceremony.
"This was very emotional for us," said Zimmerman's mother, Gloria Hemmelgarn, following the special tribute to the military and their families.
American Legions across the country this past weekend honored servicemen and women and their families by holding Armed Forces Day celebrations. Last year, American Legion officials focused on veterans of World War II.
The local St. Henry Legion awarded Blue Star banners and special certificates to dozens of families in attendance Sunday morning. The Blue Star flag was created in 1917 during World War I by Army Capt. Robert L. Queissner who had two sons serving on the front line. The blue star in the center of the flag, surrounded by white background and a red border, symbolizes hope and pride. Each star signifies the number of military men and women serving in each household.
St. Henry resident Jim Niekamp, a national motivational speaker, addressed the families in attendance.
"I can't imagine the indescribable feeling of pride you must have," he said, explaining how many local families also made the ultimate sacrifice for their country through their children.
Noel Zimmerman, 24, a 2000 St. Henry High School graduate, and her husband, Mark Zimmerman, returned one month ago from Kosavo after serving a 10-month stint with the Ohio National Guard. The couple are members of the Guard's Rickenbacker Air Base in Columbus, near where they reside.
Noel Zimmerman will graduate from Ohio State University in December with a registered nursing degree. Her husband, a Tiffin native, is studying aviation mechanics at Columbus State University.
Following Sunday's hour-long ceremony, Gloria Hemmelgarn became visibly emotional, explaining how special the tribute means to families left behind.
"With things the way they are in the world, these men and women aren't just fighting for the United States, but for many countries seeking freedom around the world," she added.
Post Commander Bill Freisthler spoke about the differences between veterans of former wars and those serving today. Unlike the days of the draft, those in today's Armed Forces choose to serve their country.
He invited all veterans, young and old, to reach out for assistance.
"Those of us at the American Legion are willing to help. Just ask us," Freisthler added.
Phone: (419)586-2371, Fax: (419)586-6271
All content copyright 2005
The Standard Printing Company
P.O. Box 140, Celina, OH 45822