MINSTER -- Athletes from 16 schools gathered Saturday at Memorial Stadium in Minster for a dual purpose -- crowning a Division III district track and field team champion, and just as important, they were there to determine who would advance to the Regional meet this Wednesday and Friday at Alexander Stadium in Piqua as the top four in each event advance.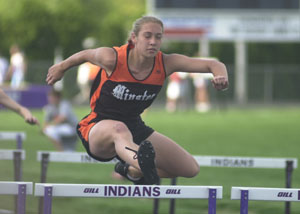 On both accounts, Midwest Athletic Conference athletes did themselves proud as Minster and New Bremen captured team titles and the MAC qualified at least two athletes in each event and relay.

Girls
In the girls meet, Minster built on its 28-point lead from Thursday to roll to a 42-point win over runner-up St. John's. The Wildcats scored 124 points to 82 for the Blue Jays. St. Henry was a solid third with 74, which was three points better than Marion Local. While the 'Cats were able to win the meet, coach Kristen Heitkamp wasn't exactly overjoyed as Minster was able to qualify individuals in just six events along with all four relays.
"It was nice to see the girls come together and win the district title," said Heitkamp." We did not, however, get everyone out like we wanted to. We had our 800 runners finish fifth and seventh and that was the way the day went. Overall we did well."
Kacie Otting was the only winner for Minster as she captured the 100-meter hurdles.
The star of the girls meet was St. Henry's Catie Evers as she qualified in three events as she captured the 200 and 400 while placing second in the 100.
The Redskins' 800-meter relay team also captured a title with a time of 1:47.37, more then a second faster than runner-up St. John's.
The New Bremen distance runners had a strong meet as Amber Niekamp captured the 1,600 meters and Lori Timmerman paced second in the 800.
New Knoxville had a strong day as Gina Bambauer won the 100, Meredith Fledderjohann placed fourth in 400 and the 1,600 relay blew the field away by more three seconds, posting a time of 4:07.05.
Marion Local junior hurdler Susann Wolf continued her strong season as she captured the 300-meter hurdles.
Boys
In the boys meet, New Bremen used its depth to rack up 107 points to 88 for runner-up Minster. Marion Local placed third with 79.
"I thought our runners on the track did a great job," said New Bremen coach Gary Jones. "Our field events have been strong all year for us and today we had a good day, but not a great day."
Troy Lammers, as he has all year, led the way for New Bremen as he qualified in three events. He won both hurdle races in dominating fashion. He won the 110 high hurdles by .11 of a second. Lammers will be able to continue his defense of the state title he earned last year in the 300 hurdles winning on Saturday by almost a full second over Ben Fisher of LCC. Lammers also was able to qualify in the 200 meters by placing fourth.
The Cardinals got huge points from qualifiers Jason Dammeyer who won the 1,600 meters by a full seven seconds over runner-up Ryan Winner. Martin Travis and Brooks Topp also qualified by placing fourth in the 100 meters and 3,200 meters, respectively.
"Martin Travis coming in fourth in the 100 was huge for us," said Jones. "Troy Lammers and Bryce Bergman got us started off well by scoring in 110 hurdles.
"We were able to score in just about every event and that was huge," continued Jones. "Jason Dammeyer set a school record in the 1,600 and then had enough guts to come back and score points for us in the 800. I can go on and on about everyone of our runners but needless to say, they just did the job."
Minster also got a great start to the day as Dane Sommer won the discus with a heave of 146-03. The fast start for the 'Cats continued on the track as Michael McVety scored the only first place with a win in the 100.
The Cats were able to qualify six individuals and all four relay teams to the regionals.
"We have had one of those up and down and seasons where we thought we were peaking about the third week and then we hit a rough period where we had turmoil through injuries and what not and to get back to where we were a few weeks ago is satisfying," said Minster coach Larry Topp. "We had some guys step up and do the job. It was great to see Michael McVety to step up and win the 100 after waiting all year to see him finally win a big race. It was a great day."
St. Henry had a nice day on the track as Jared Stammen and Jon Hemmelgarn went 1-2 in the 400 meters. Stammen and Hemmelgarn joined up with Matt Thobe and Chris Hoying to capture the 1,600-meter relay. The Redskins were able to qualify three relays in all.
Marion Local qualified well in the distance races as Ryan Winner won the 3,200 and placed second in the 1,600. The Flyers dominated the 800 meters as Tyler Speelman and Dale Bruns went 1-2 in the 800.
Parkway's Brandon Bowen continued his outstanding season as he qualified in the 100, 200 and the long jump. He was also part of the second place 400-meter relay team.