By Gary R. Rasberry
grasberry@dailystandard.com
FAIRBORN -- It looked like the little things that helped Parkway get to the regional in Division III would work its magic once again.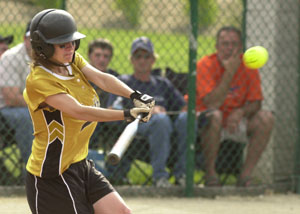 Trailing 4-1 to Blanchester through 21ò2 innings, Parkway scored a run in each of the third and fourth innings to cut the deficit to one.
However, the defense of the LadyCats stepped up and prevented any more potential scoring threats, ending the Panthers' season with a 4-3 loss in the regional semifinal at Wright State University.
Blanchester (22-2) now plays Versailles at noon on Saturday for a spot in the state final four next week at Ashland. Parkway ends a fine season at 17-8.
Parkway hit the ball hard off of LadyCat pitchers Felicia Gregory and Jessica Long, including collecting three doubles and a triple off of Gregory in her 31ò3 innings of work. Even the outs for the Panthers were struck with authority. "We hit the heck out of the ball," said Panther coach Mark Esselstein. "But so did they (Blanchester outslugged the Panthers 12-6). The clean-up hitter (Gregory) had a couple of shots and there was one other shot, but the rest were kind of seeing-eye hits. You can't defend that. It just breaks the game.
"They got a three-run lead early. But our girls showed a lot of heart, battled back and gave ourselves a chance to win, but it didn't happen," continued Esselstein.
The teams traded runs in the first, but in the third with Blanchester up 2-1, it looked like the floodgates were opening for the LadyCats. Long, Tasha Florea and Brittany Taylor laced consecutive singles of Tiffany Steinbrunner. Then Gregory brought home two runs with a deep double to make it 4-1.
Things started to turn in the bottom of the third, though, as Brittany Young, the hottest hitting Panther hitter of late, smashed her second double of the game with two outs. Jennifer Murphy followed with a triple to score Young to make it 4-2.
In the fourth. Jayme Marbaugh doubled to start the inning. After Megan Smith popped out, Steinbrunner singled through the right side to score courtesy runner Katie King.
Grogg wasted no time in bringing in Long from first base over to trade places with Gregory on the hill. After getting Kristin Roth on a sacrifice bunt, Ashley Gamble looked to have a shot to the first base side into the outfield, but Gregory dove and made the catch to end the inning.
"We got a strong three innings of Gregory, then they got to her," said Grogg. "Defensively, that's one of the most solid games we've played all year.
"Going into it, (Parkway) scouted us last Saturday and saw Long pitch. My plan was come in and throw Gregory and give them something different. If I needed, bring in Long, If I didn't need Long, I wouldn't have."
Long allowed just one more single in the game and retired the last seven batters in succession.
"It's a little different style," said Esselstein on the styles of the two LadyCat pitchers. "We got ourselves out a couple of times when they first switched. Other than that, we put the ball into play and their defense played flawlessly. If they would have had any hiccups on defense, we might still be playing.
"For the most part, if we score three runs, we're going to win," added Esselstein. "They (Blanchester) hit the ball a lot better than they did when I scouted them. A lot of them weren't hit hard, they were just in the right spots."
"Anytime you face a quality pitcher like Steinbrunner, a first team All-MAC -- and I know that conference is tough -- and are to score more than one run in an inning against the quality pitcher, that is a momentum shifter," said Grogg, who knows a little about the area after graduating from Delphos Jefferson. "We were able to take advantage of that."
Now Blanchester faces another MAC team in Versailles, a team that Grogg knows well from last season.
"We played them in the districts last year. We won a 14-11 slugfest," said Grogg. "There a solid hitting team. I know how they like to work three pitchers. So they're going to be a tough team to prepare for. You never know (about pitchers). You can gage your machine or practices to one pitcher in batting practice. We'll probably see three different pitchers with three different speeds. So I'm not quite sure how we'll handle it."
Esselstein was proud of his team, especially the three seniors in the lineup.
"Our seniors (Murphy, Roth and Erica Yoder) have done a really great job. Great leaders. They picked it up in tournament. It's tough to not win it for them, but I told the underclassmen that we have the talent to be back here and move on next year."