By Timothy Cox
tcox@dailystandard.com
At precisely 3 p.m. on Memorial Day, the mournful sound of "Taps" could be heard on the steps of the Mercer County Courthouse.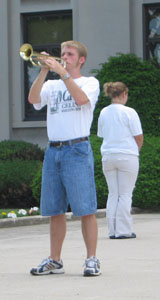 dailystandard.com">
The same scene was to have played out nationwide under a directive from President George W. Bush.
The National Moment of Remembrance was designated years ago as a moment for Americans to remember those who have died defending our nation, something the president called "a debt that is beyond our power to repay." Bush had asked that this year "Taps" be played in every city in the nation at the exact same moment.
The event would not have happened locally if four Celina High School band members had not taken charge, Mercer County Veterans Services officer Tom Risch said.
"If it wasn't for these four, this probably wouldn't have happened," Risch said. "These four decided it was going to happen and made sure it did." The four students include Ryan Phillips, who graduated over the weekend, and juniors Brad Siebert, Jennifer Kuenning and Cory Darland.
The students pulled off a moving "double lead,-double echo" version of "Taps" 24 haunting notes. A handful of veterans and the students' families watched what organizers hope will become an annual event.
Phillips has been playing taps for quite awhile. He regularly plays for Memorial Day observances, Veterans Day events and military funerals. Playing the short piece is not difficult, but the experience can jangle the nerves, especially the first few times, Phillips said.
"It's always a pretty serious occasion. You don't want to mess up," he said.
"Taps" traditionally is played with a bugle, which essentially is a trumpet without valves. The four students who played for Monday's observance are all trumpeters in the high school band. The valves on their instruments are disabled to achieve the bugle sound necessary for "Taps."
Phone: (419)586-2371, Fax: (419)586-6271
All content copyright 2005
The Standard Printing Company
P.O. Box 140, Celina, OH 45822