By Gary R. Rasberry
grasberry@dailystandard.com
FAIRBORN -- When teams get this far in the postseason tournament, flawless play becomes a necessity.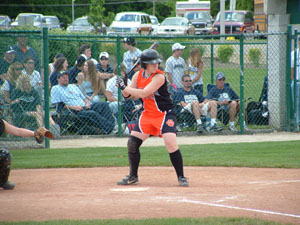 Versailles found that out on Saturday as one error early in the second inning proved to be the harbinger of bad times to come.
Blanchester scored eight runs in the second -- all unearned -- and advanced to its first state tournament in school history for any sport with a 14-4 six-inning win over the Tigers at Wright State University. Blanchester also took out Parkway in the regional semifinals on Thursday, dealing two losses to Grand Lake area teams.
The LadyCats (23-2) play 28-1 Zane Trace on Friday at 12:30 p.m. at Brookside Park in Ashland in the Division III state semifinals. Versailles bows out of tournament action at 17-10 on the season.
Take away the second inning and the game was much closer, but anything and everything that could have happened, did happen and it knocked the Tigers out of the tournament. It started with the first batter of the inning in Laura Kirkendall. Kirkendall popped up in the middle of the infield. Starting pitcher Danielle Stucke called for the ball and looked the make the catch, but the ball went in the glove and promptly popped back out. Stucke then walked Channing Miracle before getting back-to-back outs by striking out Brittany Hamilton and getting Kelsey Saylor to ground to second.
After Kirkendall scored on a wile pitch, Jessica Long stepped up and singled home Miracle to make the game 3-0. Tasha Florea followed with a double to score Long.
Versailles coach Ron Mescher wasted no time and brought in Chelsea Mayer to try and stop the bleeding.
Instead, it appeared an artery was knicked.
Mayer faced five batters in the inning with no outs recorded. Brittany Taylor singled to put runners on first and third. Felicia Gregory singled home Florea and the wild throw from the outfield allowed Taylor to score as well. Beth Walraven stepped up and brought in Gregory with a double. Kirkendall returned to the plate with a single and Miracle doubled home Walraven. Mescher then called on Amber Voisard just to get the last out, which she did after giving up a wild pitch to score Kirkendall and a walk to Hamilton before getting Saylor to groundout.
"The floodgates opened," said Mescher. "We tried to stop the bleeding, but it wouldn't stop.
"We had a good batting practice yesterday and had batting practice in the parking lot today because the field was wet," said Blanchester coach Jamey Grogg, a Delphos native. "I felt pretty good about our bats. All year, this team has displayed this type of power (15 hits on Saturday, 27 total in the regional) on a regular basis. I knew Versailles was going to give me three different looks (pitchers) and you can't prepare for three different pitchers. You have to make sure your bats are ready. We came out and jumped out on them."
All eight runs came after two outs in the inning, something that is not new for the LadyCats this season.
"In the sectional against Bishop Fenwick, we scored nine times with two outs," said Grogg. "We've been a two-out scoring machine. There's been a few games where we've scored six runs on two outs. There's something about the team when there's two outs where no one wants to be the third out."
The LadyCat defense also took some scoring chances away from the Tigers. Two plays at the plate seemed to categorize Versailles' day.
The first came in the first as the Tigers looked to even the score in the bottom of the inning. Chelsea Mayer tripled to lead off the game. Becky Smith came up and swung at strike three, but catcher Taylor dropped the ball. Taylor threw down to Gregory to complete the strikeout as Mayer came running home. Gregory immediately threw back and Taylor tagged Mayer easily for the 2-3-2 doubleplay.
The other came as the eventual last play of the game. Versailles needed a run to stave off the mercy rule for the second straight inning. Susan Brown started the sixth inning with her second double of the day. Emily Bohman, whom Brown was hitting for on the day, came in to run. After Long struck out Rachel Schmitz, Kristi Schmidt singled. Melissa Heft grounded out to score Bohman bringing up Stucke.
Stucke singled to center. LadyCat centerfielder Kirkendall tried to throw out Stucke at first but was just a little late. Schmidt tried to get home but Gregory threw another laser to Taylor for the tag and the regional title with the final out.
"Not the way you draw it up," said Grogg about the defensive stops. "Usually when you throw a runner out at home, you don't go to first. (Kirkendall) has been trying to throw someone out at first all year. I told her to keep on trying. She went for it there and we happened to have an alert first baseman who knew what was happening and stuck with the play."
"They had that strikeout/throwout in the first," said Mescher. "If (Mayer) would have gotten in there, who knows what would have happened."
Brown and Stauffer each had two hits for the Tigers.
Mescher is proud of his team, especially seniors Amber Voisard, Schmitz, Schmidt and Smith.
"They're going to be tough to replace," said Mescher. "You can fill the spot in the lineup, but what they bring to the table is tough to replace. It's going to be tough."
"I want to congratulate Versailles on a great season," said Grogg. "I know they have some young girls and I expect them to continue their strong program up there. They had an outstanding season."