By Margie Wuebker
mwuebker@dailystandard.com
A Mendon teenager was killed and his brother seriously injured Wednesday afternoon when their car struck the rear of a pickup truck on state Route 29 at Fleetfoot Road, west of Celina.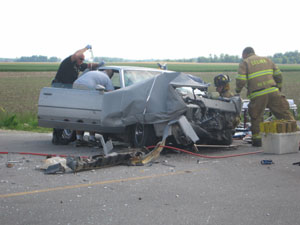 Jordan Steen, 16, 12175 state Route 707, was pronounced dead at Mercer County Community Hospital in Coldwater shortly after the 5:09 p.m. crash.
Fifteen-year-old Camden Steen also was taken to the hospital by ambulance and later transported by CareFlight emergency helicopter to Miami Valley Hospital in Dayton. He remains in serious condition today in the intensive care unit.
The older Steen, who just completed his sophomore year at Parkway High School in Rockford, was driving eastbound when his 1984 Oldsmobile Cutlass Supreme struck the rear of a Verizon utility pickup truck driven by Gary Ellis, 47, 3364 Frahm Pike, Celina.
Ellis was stopped in traffic waiting to make a left turn on Fleetfoot Road. The teenager apparently failed to notice the truck had stopped and struck the rear, according to sheriff's office reports. The truck was pushed off the road upon impact and came to rest in a yard on the northeast corner of the intersection. The car, which sustained heavy front-end damage, remained on the pavement.
Neighbors, who reportedly heard a loud bang, ran from their homes to investigate. Many stood quietly while two unidentified motorists wearing hospital-type uniforms rushed to the aid of the brothers.
Camden Steen, who had just completed the eighth grade, was ejected upon impact while his brother remained trapped in the wreckage. Neither had been using seat belts, according to sheriff's office reports.
Three ambulances -- two from Celina and one from Coldwater -- responded to the scene. Firefighters worked feverishly to free the driver using the Jaws of Life to pry away twisted metal. Each of the brothers left the scene in a separate ambulance with the third rescue vehicle carrying Ellis, who reportedly was treated then released.
Parkway High School Principal Greg Puthoff called Jordan Steen, who also went by the name Jordan Houser, "a good kid who was kind of quiet, but well behaved."
"He was looking forward to attending Vantage Career Center in Van Wert this fall," the principal added. "He had worked hard to complete requirements. This is a real shame."
The traffic fatality is the first to occur this year in Mercer County.
Funeral arrangements are pending at Miller Funeral Home in St. Marys.
Phone: (419)586-2371, Fax: (419)586-6271
All content copyright 2005
The Standard Printing Company
P.O. Box 140, Celina, OH 45822