By Gary R. Rasberry
grasberry@dailystandard.com
Last week, as he was getting players ready for hitting practice and a media interview, New Bremen softball coach Craig Griesdorn mentioned that he never had to coach this far into the season before.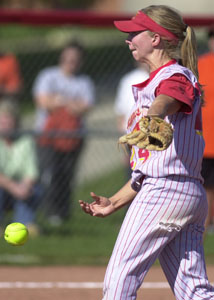 He liked that feeling.
Now, Griesdorn and the Cardinals are treading another level of uncharted water, being one of only four teams left in the state in Division IV.
The Cardinals, thanks to two wins at regional that would have made the 'Cardiac Kids' Cleveland Browns of the 1970s proud, will play in their first state semifinal on Thursday at Brookside Park in Ashland at 3 p.m., taking on top-ranked and unbeaten Crestview (27-0) in the first semifinal contest in the division.
"It's excellent. It's good for the girls," said Griesdorn about heading to Ashland this week. "They worked hard and things have worked out for us." It will be the first meeting of the season between the Knights and Cardinals (20-7), although it wasn't supposed to be. The Cardinals were to have traveled the first weekend in April for a four-team event up at Convoy, but the weather forced a cancellation and the game was not rescheduled.
Even without getting the game in, both teams know each other well. The Knights play several of the MAC teams during the season, including Parkway, Fort Recovery and St. Henry.
"We have the utmost respect for the New Bremen girls and their program," said Knights coach Cindy Perkins. "We know they have very solid ballclub defensively. They put the ball into play. They also have quality pitching. From playing last summer during our ACME schedule, we know they have very good athletes. It's going to be a real fight down there on Thursday."
The 27-0 Knights, who beat Gibsonburg 2-1 at the Findlay regional final on Saturday, features one of the top pitchers in the state with a familiar name.
Jamie Perkins, daughter of the coach, has been nearly untouchable all season for the Knights. The younger sister of former Knight standout Kerri Perkins, who now pitches at Toledo after leaving her imprint on the state record book, is 21-0 this season with an earned run average of 0.45. Perkins also averages 10 strikeouts per game and was batting over .600 for a good portion of the season. Perkins' understudy, AnnaKay Meyers, is also solid, getting the other six wins this season.
"Obviously, she's a great pitcher," said Griesdorn, whose own daughter, Julie will start on Thursday. "She has a lot of strikeouts, has a pretty good change-up and fastball. Probably one of the best around. I told the girls that we know she's going to be good, she'll be around the plate. Hopefully, they'll see it and put the ball into play. That's going to be the key. Obviously, a lot of teams haven't been able to do that."
The Cardinals will counter with its 1-2 punch of pitchers. Julie Griesdorn will likely get the start in the circle on Thursday. Griesdorn, 11-2 on the season with an ERA of 0.33, has been the ace, but sophomore Maria Staton has been quickly becoming a potential stopper as well. Staton has won the last three games for the Cardinals, including going all 10 innings against Triad. Coach Griesdorn isn't afraid of bringing in Staton if Julie gets into a jam.
Coach Perkins knows her team will have to be ready.
"At this level, you're going to face quality pitching, no matter what," said coach Perkins. "That's something our kids have had to face, adjusting to different styles of pitching all season long. We know both pitchers are good. It's something that we have to adjust to if they decide to use both of them."
Griesdorn has been impressed with the Crestview offense.
"They hit the ball, one through nine (in the batting order) as well as anybody," said Griesdorn. "They're 27-0 for a reason, and it's just not their pitching. "They hit the ball very well. Go down their lineup, they can put the ball into play."
The way the Cardinals have played this season, especially with the two come-from-behind wins in the regionals, has Perkins telling her team to be ready for anything.
"The thing about New Bremen is that they never give up," said coach Perkins. "They've been down in a lot of their tournament games and fought back and got ahead. They're a 'Never-Say-Die' team. That's a great quality.
"To be honest, after we lost early in our tournament run last year, it put a focus on our girls not to take anyone lightly. Anything can happen at any given time. That has helped propel us through the season. In tournament, we know that every team has the capability of playing very well. We don't take anyone lightly," continued Perkins. "With New Bremen, whatever happens -- if they have the lead on us or we have the lead on them --, it's not over until that last out."
Griesdorn is telling his team to treat it like another game.
"We're approaching it as game number 28," said Griesdorn. "We've been playing for four months with practice. There's only so much you can do anymore. Hopefully, they'll be relaxed. I tell them to enjoy the moment, but at the same time, you have a job to get done."