By Lance Mihm
lmihm@dailystandard.com
ST. MARYS -- Vandalism and a breaking and entering that occurred sometime Tuesday evening at the First Church of God on Defiance Road in St. Marys is being investigated as a hate crime.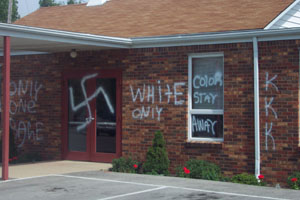 An unknown number of people spray painted white Nazi swastikas and racial remarks on the brick church and its windows. Some of the remarks included "only one race," "f*** the colored," "white only," "Hitler was here" and "judgement day is coming, I will come on Sunday."
Sergeant Ted Copeland of the St. Marys Police Department said this will be investigated as a hate crime until that can be discarded.
Also painted on the church is a marijuana leaf accompanied by the numbers 4:20 to represent National Pot Day. Some say the day became known in 1971 when a group of students at San Rafael High School in California would gather after school at 4:20 p.m. to smoke pot and used "Do you have any 420?" or "Do I look 420?" as a code for pot.
The inside of the church received minimal damage, the police reported, such as candles being melted and dripped around. Monetary damages to the property have not yet been tallied, Copeland said Wednesday.
A search of the immediate area by officers and a canine unit did not turn up any evidence, he said. The area also was swept for prints.
Copeland said the police office is investigating a "couple of small leads," but he would not disclose any other information. He also said they do not believe it was a member of the congregation.
Entrance was gained to the building through a window on the north side of the church that had been left open.
The Rev. Ben Brigham said he doesn't know what would drive someone to do this to his church. There are no ethnic group members among the small congregation of 60 at the church, he said.
"The first thing I thought when I saw it was that kids had done it," Brigham said.
He said services would go on as scheduled Sunday.
"We will continue to preach the gospel of Jesus Christ," he said. "This is not going to prevent us from that."
Brigham has requested a police officer attend the Sunday service because of the "judgement day is coming, I will come on Sunday" statement painted on the building.
Copeland said the culprits currently face charges of breaking and entering, which could range from a first degree misdemeanor to a fifth degree felony depending on the final damage assessment, and vandalism, a first degree misdemeanor.
Phone: (419)586-2371, Fax: (419)586-6271
All content copyright 2005
The Standard Printing Company
P.O. Box 140, Celina, OH 45822