By Shelley Grieshop
sgrieshop@dailystandard.com
Investigators are searching for clues to determine what started a fire that caused extensive damage to a rural Celina home and left a family of six temporarily homeless Wednesday morning.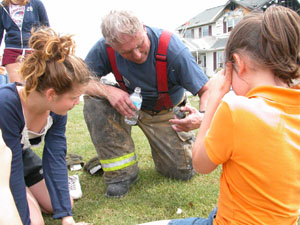 dailystandard.com">
No injuries were reported and a damage estimate has not been released. Fire officials said the fire began in an attached double car garage and spread quickly throughout the attic.
Flames were shooting out of the east, west and north sides of the 8-year-old home of Quint and Audrey Miesse at 6620 Howick Road, northeast of Celina, when Celina firefighters arrived on the scene about 10 a.m. The fire was reported by a passerby.
The wood-frame, two-story home was unoccupied at the time. The couple's three youngest children, girls ages 10 to 16, were attending their last day of school in Celina before summer vacation. Their parents were on their way to Lima when they got the devastating news.
Oddly enough, the phone call about the fire came from their son, Miletus, who was vacationing in Myrtle Beach, S.C., following his graduation from Celina High School on Saturday. "Miletus called my husband and told him our house was on fire," Audrey Miesse, 36, said in tears as she stood in the front yard of her home.
Apparently the couple's teenage son had received a call on his cell phone from someone in Celina, telling him the house was ablaze. He immediately called his parents.
Quint Miesse, 41, thought his son was "horsing around" and disregarded the phone call. As the couple headed toward Lima, Quint Miesse told his wife about the strange conversation with their son and she decided to call him back.
"Miletus said, 'There's nothing left, mom, the house is gone,' " she recalled, as tears filled her eyes.
Audrey Miesse said her son had been working on his prized Mitsubishi Eclipse in the garage on Tuesday, before leaving on his senior trip. He left a mess in the garage that her husband tried to clean up Wednesday morning, she added.
"We think it (the cause) was probably something to do with the oily rags and stuff he left behind," she said. "He thinks it was his fault, and he wants to catch a plane home."
The family also is questioning whether a refrigerator that was recently repaired and placed in the garage could have ignited the fire. An official cause of the fire could take weeks, Celina Fire Chief Doug Kuhn said.
Audrey and Quint Miesse apparently didn't notice anything out of the ordinary when they left the family home less than two hours before the fire was reported.
The fire began in the two-car garage and left only charred remains of the two vehicles parked inside. The flames quickly filled the attic area across the home from east to west. It took firefighters approximately an hour and a half to get the fire under control, Kuhn said.
The main floor and upstairs area of the home received smoke and water damage, he said.
The Miesses said they will likely stay with relatives until a more permanent plan is established because the home is uninhabitable.
The Celina Fire Department remained at the property until 6:30 p.m. Wednesday, Kuhn added. They were assisted by dozens of firefighters from Mendon and Rockford fire departments.
As firefighters kept the family at a safe distance from the smoldering home late Wednesday morning, the Miesse children, Megan, 16, Marie, 12, and Morgan, 10, circled the home, periodically peeking inside to determine if any of their personal items would be salvageable.
The children were ecstatic to learn their pets -- three cats, a dog and a turtle -- survived the smoke-filled structure.
Although the Miesses have home insurance, Audrey Miesse said she wasn't sure how much of the damage would be covered or how much remodeling the family would be able to afford. Four years ago, Quint Miesse was seriously injured in a car accident and has not been able to work much since, she explained. He suffered a broken back, head trauma and a collapsed lung and the family has struggled with mounting medical expenses since.
Following the auto accident, the family's medical insurance company dropped their coverage.
"This is something we didn't need," said Audrey Miesse, a self-employed licensed practical nurse, while looking across the yard at her young daughters.
She talked about her son's high school graduation just five days earlier and said she can't believe how so much happiness one day can be replaced by so much sadness just days later.
"My son came into the kitchen that day and said thanks for the great party," she said. "I hope it won't be our last one here."