By Shelley Grieshop
sgrieshop@dailystandard.com
ST. HENRY -- When Mitchell Franzer was born, doctors told his parents he would never walk, climb or jump about like other little boys.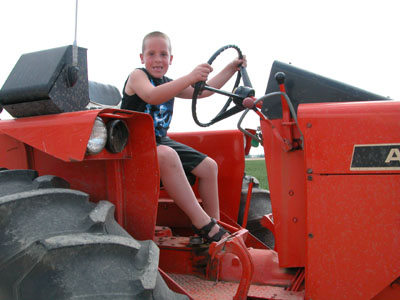 Today, the 7-year-old is a whirlwind of energy, helping to feed the pigs and steers on his family's St. Henry farm.
"He's our miracle boy," says his parents, Bill and Sandy Franzer, as the brown-eyed boy flashes back a smile.
Mitchell was diagnosed at birth with spina bifoda and was transferred the same day from Community Hospital, Coldwater, to Children's Hospital in Dayton for surgery. With the fortitude of his parents and the help of specialized doctors, he has surpassed most medical expectations, his family says.
The St. Henry schools second-grader has been chosen to make an appearance this weekend on the Children's Miracle Network Celebration 2005, a fund-raising event held each year. This year's broadcast will be televised from 9 p.m. - midnight Saturday and noon - 6 p.m. Sunday. The show will be aired on WLIO-TV Channel 7 in Dayton. Mitchell is expected to be interviewed live sometime between 1:50-2:20 p.m. Sunday, by Cheryl McHenry, Mike Hartsock or Ted Ryan of the WLIO news staff.
The Children's Miracle Network, headquartered in Utah, is a non-profit organization that helps raise charitable funds for 170 children's hospitals across North America.
Spina bifoda is a birth defect affecting the covering of the spinal cord. The bones of the spine are not properly joined during development and fail to protect the spinal cord. There are various degrees of the disease that many times leaves its victims paralyzed. Children born with more serious forms of spina bifoda do not survive.
As the young boy fidgets at the family's dining room table, he appears as healthy and happy as any other child his age. But the road he has traveled has been much longer than most, including numerous trips to doctor offices and hospitals for invasive procedures.
Still, the word "miracle" fits him well. Ignoring the bleak future doctors predicted, he was walking at 16 months. Before his third birthday, he boarded a school bus to attend the Cheryl Ann Early Intervention program in Celina for a speech problem.
The family forged ahead believing their son could overcome other lingering health problems, too. Then more bad news arrived as Mitchell turned 5.
"We were told he would never have bowel or bladder control," his mother said.
In June 2003, a special Mass was held at Saint Francis Church to pray for Mitchell as he prepared to undergo an eight-hour surgery to correct the problem. Family, friends and neighbors filled the church and prayed, Sandy Franzer says.
"The outcome was as good as we'd hoped for," she says.
Mitchell's bodily functions are now controlled with periodical catheterization and a daily flushing -- a routine as accepted by Mitchell as feeding his beloved steers.
"Most people don't even know he's had any problems," Sandy Franzer says.
The couple say their son has always kept a deep sense of determination for tackling obstacles, and the feeling became contagious.
"Something snapped in me just weeks after he was born," Sandy Franzer explains.
Both parents decided they would push hard to help their son reach his full potential and he is on the right track. He struggles a little in math, but oddly so do many other children with spina bifoda, they've been told.
Mitchell cannot participate in rough sports but does play soccer and baseball with gusto, his dad says.
The family also credits the care Mitchell received from the staff at the Dayton hospital. His close bond with one particular physician, Dr. Donald Nguyen, may have been the reason he was chosen for the television appearance from a pool of thousands of children, Sandy Franzer says.
And how does Mitchell feel about all the attention?
Like a typical kid, he produces a quick thumbs up before heading out the door into the summer sun.