By Gary R. Rasberry
grasberry@dailystandard.com
ASHLAND -- For the first 21ò2 innings, the New Bremen fans that made the nearly three-hour trek to Ashland were living the dream.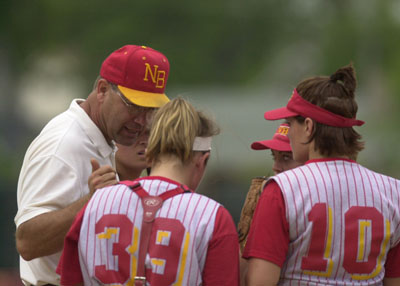 The Cardinals, making the first-ever trip to the state softball tournament -- and first state final four in any sport in over 40 years -- were up 1-0 on the state's top-ranked team in unbeaten Crestview.
Then it seemed like an alarm bell rang.
Whatever it was, it woke up the Knights.
Crestview scored three times in the bottom of the third and three more in the fourth as Knights' ace Jamie Perkins recovered from her one inning of mortality and posted a 6-1 win over the Cardinals in the Division IV state semifinal at Brookside Park in Ashland. The Knights (28-0) now play Symms Valley on Saturday at 12:30 p.m. to decide the state championship. Symms Valley beat Maplewood 3-2 in the second semifinal on Thursday.
New Bremen finished its fine season at 20-8, a school record for wins.
"Our kids battled," said Cardinals coach Craig Griesdorn. "We've had this 'Never say never' attitude all the way through the tournament run. Give (Crestview) credit, they were able to take a few of our mistakes and make some plays. ... Those things happen, you learn from it."
Early, Perkins, entering the game with a 21-0 record and a minuscule earned run average, was not in full control, walking a batter in the first and hitting Audrey Micheal to start a rally in the second frame.
Maria Staton looked to drop the sacrifice bunt, but the placement was perfect enough to reach first for a base hit with no outs. Megan Sindelar stepped up and singled home Michael from third, keeping runners on the corners with no outs.
Erika Bell bunted and Crestview made the play at first, but courtesy runner Katy McGovern (for Staton) tried a late dash for home and Crestview first baseman Alyssa Lehman threw home to catcher Katie McClure, who tagged out the sliding McGovern for the easy out.
"That may have been the first time they've been behind. I don't know," said coach Griesdorn. "We knew we had to put the ball into play against her. We got on with the hit batsman, Maria did a good job getting the bunt down and Megan came up and got the big hit.
"It's always big to get that second run. Erika got the bunt down and (Crestview) made a good play keeping Katie a little close at third. Katie took a chance, we've been aggressive all tournament. You don't want to come down here and not be aggressive."
Meanwhile, Staton, getting the starting nod over senior Julie Griesdorn, was solid by not allowing a runner to reach until the start of the bottom of the third when Lehman walked. Alisha Etzler later singled home Lehman to tie the game.
After Staton struck out Emily Millay, Perkins stepped up and doubled to the right-centerfield fence, bringing home a pair of baserunners. Perkins tried to make it a triple, but a solid relay throw made it an out.
"Once we caught them and went ahead, the girls gained a little confidence," said Crestview coach Cindy Perkins, mother of Jamie. "Then we got a couple of more runs on some errors."
More New Bremen woes came in the fourth as McClure lofted a flyball to left center. Both centerfielder Bell and leftfielder Jennifer Dick tried to get to it but the ball fell out of Dick's glove when neither called each other off and had a slight collision. Kristell Johnson bunted her way to first.
Ashley Holden stepped up to what was the wildest at-bat of the game. Holden singled to score McClure and Johnson came around third and appeared to get stuck between third and home. Griesdorn tried to throw to Cisco at home, but the throw got by Cisco. Johnson came home to score as Cisco tried to throw to Staton at the plate for the tag and when that throw was wild, Holden, moving up on every play, mad-dashed around to score to make it 6-1.
That was all that Perkins needed. After giving up two hits, two hit batsmen and a walk in the first three innings, Perkins retired the next 13 batters she faced and ended up striking out 12 batters in the game.
"Hitting a couple of batters is unusual for Jamie," said coach Perkins. "I don't know if she was a little uptight, but once we got things going, she got on a roll."
"I think she changed her speed a little more," coach Griesdorn said of Perkins. "We knew she had a good change-up coming in. We worked on that this week with me pitching -- I'm as slow as you can get.
"New Bremen came in and played a very good game," said coach Perkins. "They've got some excellent athletes and pitching. They put the bat on the ball and made us make the plays. Unfortunately, we didn't make some plays that we should have. Bremen did a nice job against us."
Staton finished the day with six innings of six-hit ball and due to the errors, only one of the six runs were earned. Staton also struck out three and walked two.
"Maria did a fine job pitching," said coach Griesdorn. "We made some nice defensive plays. ... It didn't work out for us. Other games it did."
Griesdorn could not hide his pride in the team.
"I'm proud of our girls. We have nothing to hang our heads about," said coach Griesdorn. "I told the underclassmen we had great senior leadership from our six seniors (Julie Griesdorn, Kelly Steineman, Bell, Micheal, McGovern and Lyndi Nagel). I told them they set the bar. You got a taste of what the state tournament is like, you want to come back here again.
"We're rooting for Crestview. If we're going to get beat, we want to get beat by the state champions," concluded Griesdorn.