By Janie Southard
jsouthard@dailystandard.com
ST. ROSE -- The Rev. Kenneth Schroeder, C.PP.S., priest to 870 families in five Mercer County parishes, will celebrate his 40th year in the priesthood on Sunday.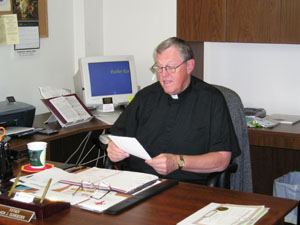 "I love Mercer County and the people in my parishes, and the churches, four of which are over 100 years old," Schroeder said at his office in St. Rose where he also oversees the parishes of St. John the Baptist, St. Sebastian, Precious Blood, and Nativity of the Blessed Virgin Mary.
It sounds like a lot of people, but Schroeder, who has been assigned to Mercer County for almost four years, is accustomed to lending spiritual guidance to large numbers of people. The Putnam County native was a military chaplain for 22 years, serving some of those years in Saudi Arabia with the 1st Armored Division during the Gulf War in the early 1990s.
He was a brigade chaplain responsible for 4,400 soldiers and lived and worked right along side them.
"Oh, yes, I wore a uniform. They wanted us to try to fit in, except, of course, for carrying weapons. On Sundays, though, I dressed as a priest," he said. A popular saying is that there are no atheists in a foxhole and Schroeder found truth in that observation.
"At the base in Germany, attendance at (religious) services was low. But when we got to the desert it was everyone attended all services," he said adding, as survival became an issue, the troops wanted to "get right with God."
"Our brigade did not lose one soldier due to hostile action," said Schroeder, who was ordained on June 5, 1965.
As a child, he wanted to be a farmer and his call to the priesthood came through an unexpected channel.
His best boyhood friend talked him into going to attending a high school seminary. The two boys, both 14 years old, began studies on Sept. 1, 1951. Just two weeks later, the friend said, "Ken, I just can't take this. I'm leaving."
"And he did. Now, isn't it funny the way God works? Here I thought I'd be a farmer, but now I can't think of anything I'd rather be doing," said the 68-year-old priest.
His ordination came during the turbulent 60s, both for the Catholic church and the country.
"It was around the time of Vatican II. My first mass on June 6, 1965 was half Latin and half English and my back was to the congregation.
"Actually that time was kind of exciting for me but I was only 28 years old. If you were older (priests) you wouldn't have enjoyed it so much. I greatly admire those guys who hung in there with all the changes," he said.
"But, you know, those changes were mostly non-essential. I actually believe the Catholic church has been the same for 2,000 years."
Schroeder also served in parishes in Detroit, Hamilton, and Columbus, but particularly enjoys his present assignment which he expects to serve until his retirement.
"The people I serve here are so gracious and supportive. It gives me courage to continue on and do my best for them," he said.
Following 10:30 a.m. Sunday mass at St. John the Baptist Catholic Church in Maria Stein, his congregations will host an open house from 2 to 4 p.m. at the Knights of St. John Hall in Maria Stein.