By Bruce Monnin
bmonnin@dailystandard.com
COLUMBUS -- The Division III state track meet started off with three girls and four boys events on Friday. As usual, several area athletes have already attained spots on the podium at the track and field championships.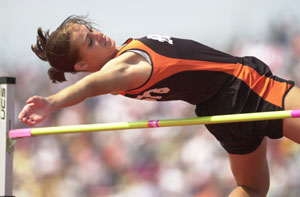 Boys 3,200-Meter Relay
The Marion Local boys' team just missed out on winning the championship in this event by less than three seconds. The team consisted of three returning members of last year's 3,200-meter relay team which finish seventh at the state meet. This year's team shaved eight seconds off last year's state time to improve to a second-place finish, also setting their best time of the season by around five seconds.
Sophomore Dale Bruns, the only new member of the squad this year, led off for the Flyers. Dale finished his leg in third place, close behind the leaders.
"I really didn't know what to expect coming in," stated Bruns. "I tried to do my best, and I think I did that, I left it all out on the track." Ryan Winner ran the second leg and took the Flyers to a three-second lead at the end of his portion of the race.
"One of my roles on this team, being a senior, is to get us the lead," noted Winner. "Whenever I come across the line I expect to be in first."
Next up was junior Lee Homan who held a one-second lead at the end of his leg of the race, holding off a fast charging Warren Lordstown squad.
"It was the best time I ran my whole high school career, so I'm pretty proud of that," explained Homan. "As long as I stayed ahead I knew our next guy could get it done, so I wasn't worried about it."
Indeed, as senior Tyler Speelman ran the final leg he expanded the lead to two seconds after his first lap, and it looked like Marion Local would be celebrating a state championship. But the last runner for Warren Lordstown put in an amazing sprint over the final 200 meters to snatch away the championship, incredibly beating their regional result by 15 seconds.
"I have to thank my other three teammates, they put me in a position to win," said Speelman. "That was our goal coming in. It came down to one of those races where the weariness of the body overcame the will of the mind."
Boys Long Jump
Parkway's Brandon Bowen started off his highly successful day by placing fourth in the long jump with a leap of 21-4 1/4, despite having only the 11th best jump of the group of 16 competitors in regional competition last week. Brandon had just missed the podium by finishing in ninth place last year, so he was pleased with the improvement.
"I wish I could have jumped 22 feet (as he did earlier in the season)," considered Bowen, "but I'm happy."
Boys Pole Vault
New Bremen's Kevin Heitkamp secured 3 1/2 points for the Cardinals by tying for fifth place with a vault of 13-0. This was also an improvement on last year's performance for Kevin, which was under unusual circumstances.
"Last year I finished 12th, but the pole broke on my second jump and I had to get five stitches in my hand," recalled Heitkamp. "I probably would have placed last year if the pole hadn't broken."
Kevin also expressed satisfaction that he was able to get another chance this year and capitalize by earning a place on the podium.
Boys Shot Put
No locals reached the podium in this event, but Minster's Derrick Gates and New Bremen's Marcus Overman both achieved season best throws in the competition. Unfortunately, they were both a bit short of reaching the top eight, with Gates finishing 10th and Overman 12th.
Girls 3,200-Meter Relay
The Versailles girls teams placed sixth in this event, edging out the seventh-place New Bremen Cardinals who had defeated them at the regionals the week before. With all four members of their team returning next year, the Tigers have hopes for an even higher finish next year. Marion Local also competed in the event and finished 10th.
For the New Bremen girls, it was a first experience at the state meet. Last year, they missed qualifying for the state meet by only one second. The team of Kayla Schwaiger, Lori Timmerman, Kylie Schwaiger and Amber Niekamp simultaneously expressed disappointment that they finished a second slower than last week at regionals, as their goals were set much higher.
As senior Kylie Schwaiger summed up, "We're happy we got here, and we're happy we finished in the top eight, but, compared to what we were hoping for we are a little disappointed."
Girls High Jump
Minster's duo of senior Amy Kremer and freshman Ashley Meiring both reached the podium in the high jump. Ashley was one of seven competitors to clear a maximum height of 5-2, and ended in a two-way tie for eighth place to reach the podium.
"It was good. I liked it (being on the podium)," admitted Meiring. "I was a little disappointed because I thought I had 5-4."
For Kremer, it was her fourth trip to the state meet and the fourth time she placed in the standings. She cleared a height of 5-4, but like most competitors, she also had higher hopes than her fifth-place finish as she Kremer had jumped 5-7 once this year.
"But I jumped 5-6 several times," stated Kremer. "I was hoping for 5-7 today at the big meet.
"I was kind of disappointed because I jumped 5-4 awesome and I was doing great," continued Kremer. "At 5-5, my feet just clipped it and it made me so mad. I felt great today."