By Bruce Monnin
bmonnin@dailystandard.com
COLUMBUS -- A couple of Midwest Athletic Conference schools earned high places in the Division III girls state track meet, with Versailles finishing sixth and Delphos St. John's finishing eighth. There were also several individuals from around the area that also enjoyed great success.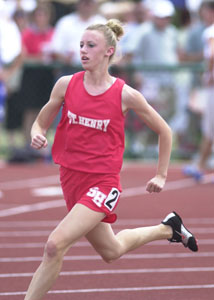 St. Henry
Catie Evers was the sole Redskin representative on Saturday.
After competing in three events on Friday, she was able to concentrate on just the 400-meter dash Saturday. The effect showed, as Evers finished fourth with her best time of the season. "It felt better (running in only one event)," said Evers. "I beat my personal record yesterday, and it was probably better today." Indeed, she was almost a second faster, with a time of 57.95.

Marion Local
The Flyer women only had two events on Saturday.
First, the 400-meter relay team of Susann Wolf, Megan Bruns, Holly Fortkamp and Abby Schulte scored a sixth-place fin ish.
According to the second-leg runner, Megan Bruns, "It was close to our record time."
The team appeared to have solid handoffs, which is always crucial in a short relay race. Next year Megan and Holly will try to return without senior Schulte and exchange student Wolf.
As for Wolf, she had to miss the team photo on the podium to participate in the 300-meter hurdles shortly thereafter.
Wolf finished sixth in this event with a time of 46.20, thus placing twice in one day.
"It was very exciting," expressed Wolf. "I was very nervous before the race."
Nicole Schaefer was in the next event, the 800-meter run, where she finished in 13th place. Trisha Bruns later competed in the 3200-meter run, which she completed with a time of 12:07.52, good enough for a 12th-place finish.

Minster
Brigitte Sherman was the sole Lady Wildcat to compete on Saturday, a rarity in Minster girls track history.
Sherman finished the 1600 meters with a time of 5:16.04, just a little slower than her personal best time from regionals the week before. That was enough for a sixth-place finish, as she was just edged at the line by the fifth-place runner from Orwell Grand Valley.
"It was just so tough because every time I felt that I could get ahead of people I would get boxed in because there were so many girls running together," commented Sherman. "It was tough to go when you wanted to go, and when the opportunity came I mentally wasn't ready for it."


New Bremen

Lori Timmerman and Amber Niekamp carried the banner for the Cardinal women at the state meet Saturday after the 3200 meter relay team had scored two points on Friday. Sophomore Niekamp finished ninth in the 1600 meter run with a time of 5:18.79, while freshman Timmerman posted a time of 2:21.85 in the 800 run, which was good enough for 10th place.

Fort Recovery

Holly Stein was the only Indian to make it to the state meet this year. She competed in the shot put Saturday morning, and her throw of 33-02.50 was good enough for her to finish in 14th place.

Versailles

The Lady Tigers scored 22 points to finish in sixth place in the team competition. Leading the way Saturday was Amanda Barlage, who finished second in the pole vault after clearing 11-3. She lost out on the tie breaker by missing an attempt at an earlier height. "I'm really happy I improved so much (from last year)," stated Barlage, who finished seventh last year by clearing 10-0. "My dad helped me a lot."

Kristen Smith scored with a fourth-place finish in the 1600 meter run, while the 1600 meter relay team of Jessica Schulte, Sarah Hemmelgarn, Kylee Schalter and Kaila Barga took third place. Schulte also competed in the long jump, finishing 15th.

Delphos St. Johns

The ever improving Blue Jay track team finished eighth in the standings with 21 points. One of the stories of the state meet was Alisha Anthony, who broke a 25 year old record while winning the long jump. A joyous Anthony felt "Awesome. After two years as runner-up, all I wanted was to come home with the gold."

Alisha was already leading the event going into her final jump when she set the record. "That was my best jump ever by seven inches," stated an amazed Anthony. Anthony's family missed all the excitement, however, as they were all in Michigan where Alisha's sister was getting married that day. As soon as the meet was over, Alisha took off for Michigan to get a late start on the family festivities.

The Delphos 800 relay team of Stephanie Utrup, Lauren Burgei, Valerie Morris and Anthony scored three points by finishing sixth. Utrup, Jodi Leininger, Morris and Anthony then combined for a seventh place finish in the 400 meter relay.

Anthony, who is only a junior, then competed in her fourth event of the day, finishing sixth in the 200 meter dash. Erin Calvelage finished out the Blue Jay scoring on the day with a sixth place finish in the 3200 meter run.