ROCKFORD -- The Parkway ACME baseball team used small ball and great pitching by senior-to-be Tyler Brickley to defeat Celina, 9-4, on Monday night in Mercer County ACME league action at Don Black Field.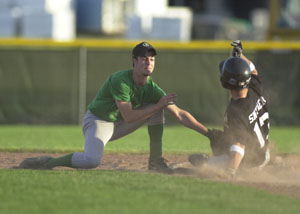 With the win, Parkway improves to 2-2 overall and 2-0 in conference play.
On the evening, Parkway used five stolen bases and three sacrifice bunts, including a pair of suicide-squeeze plays to supplement a five-hit attack.
"You have to give credit to Parkway from their coaching staff down to their players," said Celina coach Ron Fortkamp. "They did the little things, like stealing bases, laying down bunts and moving runners along. They did what they needed to do to win and we did not do any of the things that would allow us to win."
"Little things are a big part of our team this summer because we're a young team," said Parkway coach Mike Moorman. "We stress aggressiveness all the time to them, with squeezes and stolen bases. We have some speed and that helped tonight." Trailing 3-0 after an inning, Parkway scored four times without the benefit of a hit in the bottom of the second to take control of the game. Jordan Thompson, Trevor Krogman, Jensen Painter and Kyle Hamrick coaxed walks off Celina starter Jordan Heuker to make the score 3-1. An RBI ground ball by Alex Shaffer made the score 3-2.
Parkway took the lead as Rikki Covarrubias laid down the first of the suicide squeeze bunts to plate Krogman, with Painter also coming in to give Parkway the lead on a throwing error by Celina relief pitcher Joe Clouse.
Parkway added two more small-ball runs in the third. Krogman reached on an error to start the inning and went to third on a single by Painter. After a Painter stolen base, Hamrick laid down a bunt up the first-base line to plate Krogman to make the score 5-3. The second run of the frame came on a two-out single by Shaffer.
Brickley struggled in the first inning as he walked a pair and gave up a pair of hits to the Bulldogs, allowing Celina to take a 3-0 lead, but that was all Celina could muster offensively as Brickley allowed just four hits and one run over the final five innings, striking out 13 Bulldog hitters.
After reaching a pitch limit in the seventh, Brickley turned the ball over to Jordan Heckler and he sent Celina down in order to end the game.
"Lets talk about the way Brickley pitched tonight," said Fortkamp. "We looked at way too many fastballs and when we did that he would throw his curveball and it was deadly tonight."
"Tyler is a 'Bulldog' and he's the ace of our staff," said Moorman. "He was up to about 100 pitches to start the seventh and he wanted to come back out and we told him that if he gave up a baserunner he would come out and that's what happened. Jordan Heckler did a great job of coming on in relief'. Tyler had 13 strikeouts and got out of jams and that's what a top pitcher is supposed to do."
Phone: (419)586-2371, Fax: (419)586-6271
All content copyright 2005
The Standard Printing Company
P.O. Box 140, Celina, OH 45822