By Ryan Hines
rhines@dailystandard.com
Chris Fetter spent the last year watching the University of Michigan baseball team from the bench as a redshirt, but the 6-foot, 8-inch righthander showed why the Wolverines recruited him on Tuesday night.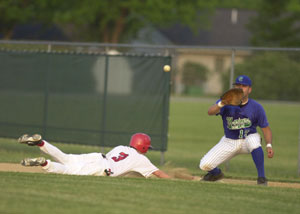 Fetter will be pitching this summer for Grand Lake and the Mariners are happy to have him after posting a 4-0 win over Geneva in the season opener at Jim Hoess Field.
The Mariners got seven sparkling innings from Fetter, who was dominant from the opening pitch with 11 strikeouts and no walks while allowing just four hits.
"I was redshirted at Michigan and spent a lot of time watching and it was just nice to get back on the mound again," said Fetter. "I haven't thrown in a competitive game since last summer and I just want to come out and keep getting better.
"I threw 102 pitches tonight and I'm still getting my arm back into shape right now and I was pretty amazed, actually, with the way that I threw tonight. I just wanted to come out and throw strikes and find a rhythm but they had some trouble catching up with my fastball," continued Fetter. "Chris did a really good job, especially considering that he didn't have any innings during the last year because he was redshirted," said Grand Lake manager Mike Stafford. "He gave us seven strong innings, he came right at them and didn't walk anybody with 11 strikeouts. He kept the ball low and his breaking ball was his out pitch. I could tell by watching him in the bullpen that he was going to be okay. He's only thrown intersquad games at Michigan in the past year but he's going to be a key guy in our rotation this summer."
Keegan Laycock, a Lima Locos player last summer, came on in relief and threw two scoreless innings with five strikeouts.
Michael Ayala also had a strong start to the summer season with a solo home run in the second innning in his first at-bat with a wooden bat. Ayala also added a double later in the game to pace the Grand Lake offense that totaled seven hits.
Grand Lake was able to dent the scoreboard once again in the sixth inning thanks to Celina native Scott Boley. Boley drew a two-out walk in the sixth inning, stole second base and later scored after back-to-back wild pitches. Geneva had a total of seven wild pitches and passed balls during the game to help the Cardinals slip to 1-7 so far this summer.
With Fetter cruising along on the mound, the Mariners put the game away in the seventh inning with two runs.
Mariners lead-off hitter Ryan Kenna was hit by a pitch to start the inning and stole second for his third stolen base of the night. Ben Humphrey, who had struck out three times earlier in the game in his first three at-bats, laced a single to right-centerfield scoring Kenna for a 3-0 Mariners lead. Ben Gaal then drove home Humphrey with a single of his own to close out the scoring in the game.
Grand Lake will play another nonleague game on Thursday night at Jim Hoess Field hosting Portland at 8 p.m.

NOTES -- The Mariners are still without 11 of the players that will be on the team throughout the summer due to extended postseason runs and due to classes still in session. The full roster is expected to be in Celina on June 12 ...On June 14 the Mariners will be hosting the Lima Locos and former Major League Baseball player Doug Bair will be there to throw the honorary first pitch.
Phone: (419)586-2371, Fax: (419)586-6271
All content copyright 2005
The Standard Printing Company
P.O. Box 140, Celina, OH 45822