By Gary R. Rasberry
grasberry@dailystandard.com
After starting off the season with four losses to three solid teams, things were looking good in the top of the sixth for the Celina ACME team as the Bulldogs held a 9-3 lead on St. Marys.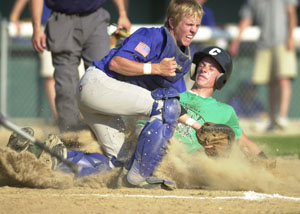 Then things went south in hurry for Celina.
The Roughriders scored six runs to even things out in the sixth, then scored four times in the eighth to post a 13-10 win over Celina at Eastview Park.
The win evens St. Marys' record to 3-3 as Celina falls to 0-5 on the young summer season.
Things started well for St. Marys in the fourth as Kile Irons led off with a double. After Zac Enderud singled home Irons, Mitch Dunlap grounded back to the mound, but Dustin Woods' throw to third was off the mark. Justin Bruns singled home Enderud to make it 9-5 and after Victor Long singled home Dunlap to cut the deficit to three runs, Celina coach Ron Fortkamp called Jim Fishpaw to the hill. Donny Carroll cut the deficit to one run with a two-run single and Sam Rammel then tied the game with a sacrifice fly to score Long.
"We didn't fold up the tents. I'm proud of the kids," said St. Marys coach John Meinerding. "They hit the ball well. The guys who came in off the bench (Irons, Enderud, Rammel) had some key hits for us."
Celina had a chance to win in regulation in the bottom of the seventh. Pinch-hitter Brandon Likens walked and moved to second on a wild pitch before Woods singled to put runners on the corners for John Bonvillian. Meinerding called for Long to step out of the designated hitter spot for pitcher Austin Solomon. Celina tried the suicide squeeze, but Bonvillian popped the bunt up as Long made the snag and threw to catcher Rammel, who tagged the runner for the double play.
"That was huge," said Meinerding about the double play. "I thought after they got runners on second and third with nobody out, I was a little nervous. Victor made a great play and got out of the inning."
In the eighth, Long led off with a double and after Carroll laid down a perfect bunt to advance the runners, St. Marys decided to put on the squeeze play. This one worked as Rammel reached on a single as Long scored the game-winner easily. Irons reached on an error and Enderud singled home Rammel. Fishpaw then hit Mitch Dunlap to bring up Burke, who ended the scoring with a sacrifice fly to score Irons, the throw home went wild, allowing Enderud to score.
Celina, which had nine hits on the night, tried to get something going in the bottom of the eighth. After Fishpaw grounded out, Jordan Heuker walked, moved to second on a wild pitch and then to third on a balk by Long. After Matt Paulus struck out, Darren Fleck walked to bring up Brandon Ley, who singled home Heuker and moved Fleck to second. Long ended matters by getting a strikeout to end the game.
"Our pitching held up," said Meinerding. "We got a win. That's a good feeling. Everyone contributed."
Fortkamp had very little to say, but took time to praise St. Marys.
"There was absolutely no quit in St. Marys," said Fortkamp. "Let's give St. Marys all the credit in the world. Maybe we helped them along a little bit, but they didn't quit and found a way to win. Unfortunately for us, we keep finding a way to lose."
Phone: (419)586-2371, Fax: (419)586-6271
All content copyright 2005
The Standard Printing Company
P.O. Box 140, Celina, OH 45822