By Margie Wuebker
mwuebker@dailystandard.com
A Coldwater man died Wednesday morning when the 1991 Ford Explorer he was driving rolled several times along state Route 118 north of Coldwater.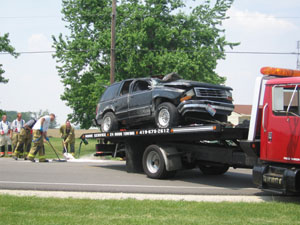 John J. Ford, 42, 117 First Ave., was pronounced dead at the scene of the 11:33 a.m. crash by Mercer County Coroner Dr. Timothy Heinrichs.
Ford was driving northbound near St. Anthony Road when he apparently lost control and the SUV traveled off the east side of the road. He then overcorrected sending the vehicle left of center and overcorrected a second time leading to multiple rollovers, according to Mercer County Sheriff's Office reports.
The driver and sole occupant was ejected from the vehicle as it rolled. He was not using a seat belt at the time.
Lt. Martin Emerine described the accident scene as a flat area with no dips or deep ditches. The crash remains under investigation. Assisting deputies at the scene were the Coldwater Fire Department and a Coldwater unit of Mercer County Emergency Medical Services. Personnel from Mercer County Emergency Response Volunteers handled traffic control.
Ford had moved to Mercer County in February to begin a new life away from the Dayton area, residing with a niece, her fiance and two children at Northview Mobile Home Community.
"My uncle had been doing so well," Tish Kinney told The Daily Standard this morning. "He had turned his life around after prison, and I was so proud of him."
Ford, who reportedly served time for breaking and entering, worked at Cooper Farms in St. Henry and saved his money to repair and restore the black Explorer he loving called "my baby."
He purchased the vehicle two months ago from another niece and then diligently saved money for a different transmission.
"John installed the thing himself and brought it home Sunday night," Kinney said. "He loved that vehicle, and he only had three days to enjoy it."
She believes he was heading to Graveyard II Auto Parts on Kuhn Road to show off "his baby" and to see about purchasing replacement seats. Kinney recalls him saying he had to go to the Graveyard.
The Coldwater woman and her fiance, John Smith, are faced with the challenge of explaining the absence of "Papaw" and "Uncle Johnny" to their daughters, 2-year-old Victoria Smith and 4-year-old Alexis Kinney. The little girls do not understand why he no longer watches television with them or sits outside leisurely sipping coffee before heading to work.
Funeral arrangements are pending at Newcomer Funeral Home in Dayton.
This marks Mercer County's second fatality for the year. The first occurred May 31 at the intersection of state Route 29 and Fleetfoot Road. It claimed the life of 16-year-old Joshua Houser-Steen of Mendon.
Phone: (419)586-2371, Fax: (419)586-6271
All content copyright 2005
The Standard Printing Company
P.O. Box 140, Celina, OH 45822