Local and state air transportation officials say longer runways and up-to-date county airports bring businesses and jobs to the surrounding communities.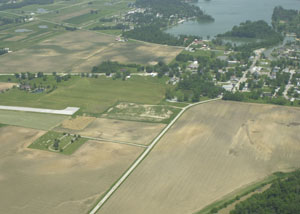 As Mike McCorkle, the new airport manager at Mercer County's Lakefield Airport, says, it is kind of a "if you build it, they will come" approach.
Whether the approach is that simple or more broadly nuanced as Gary Katterheinrich, the airport manager at Auglaize County's Armstrong airport, believes, there is little doubt that extending a runway and improving services can be a development help. Armstrong has nearly completed its $1.9 million runway extension project. Only fencing and reseeding some of the disturbed dirt remains to be done.
But runway extension is never an easy task, as both officials say. Nor is it cheap. And, it definitely is not quick.
Just ask Lakefield Airport Authority Board President Norman "Rick" Slavik, who has been working for more than six years on getting the Lakefield Airport runway extended so it can handle larger -- make that corporate -- jets. He, along with representatives from his board and from Franklin Township, met Thursday with Mercer County Commissioners and County Engineer Jim Wiechart to begin the process of road changes that ultimately will allow for the runway extension.
The $425,000 project calls for abandonment of part of Cassella-Montezuma Road and the widening of two nearby roads for expected heavier traffic volumes when Cassella-Montezuma Road is no longer a through road. Instead, the road will be broken, ending in two cul-de-sacs located just south of Montezuma. Guadalupe and Burge roads would be improved to handle more traffic.
The work is being paid for through a number of local government entities and a couple of large grants.
County engineers are expected to begin necessary drainage work for the project later this year with the construction of the cul-de-sacs and widening of the two roads coming next spring and summer. Public hearings will be necessary before the section of Cassella-Montezuma Road can be vacated, although county officials said they plan to maintain access on the road to residences and a cemetery.
The runway extension is tentatively slated for 2007 and Federal Aviation Administration (FAA) want preparations for the runway project to begin this year. If the project falls off schedule, it could cause problems with the FAA grant, including the expiration of an environmental study that was a previous part of the years-long runway extension effort, said Slavik.
Wiechart said the work his crews will do later this year should qualify as the official start to the project that is required by the FAA. County sanitary department manager Kent Hinton said the county acquired necessary right-of-way land last year for the road widening and that also could be construed as the beginning of the project.
The project is funded by a $249,900 grant from the Ohio Public Works Commission, which oversees airport transportation, $61,000 in Community Development Block Grant money, $25,000 from the airport authority, $29,000 from the township and $60,000 from the county engineer's budget. The cost does not include the price of the eventual runway extension.
Slavik admits Lakefield has a way to go to reach its goals. He does think it will help the community, "not right away but in the long run -- in 10 or 15 years."
Lakefield has 26 planes at the field and their owners are what is commonly know as recreational flyers, although some do use their planes for occasional business trips. Some of the hangars are rented to owners who have not flown their planes for some time and a couple have even moved from the area.
McCorkle said he is working to try to encourage the non-flyers to move or sell their unused planes to free up some space.
Money to support the airport comes from hangar rental and from the sale of aviation gasoline.
The airport now has a mechanic on call to help owners if needed.
Slavik, who is on the Ohio Aviation Association, also worked to get a small gas tax, the proceeds of which would be dedicated to general aviation support. The effort was unsuccessful, but Slavik said he will try again next year.
The Ohio Pilots Association members opposed the tax, but Slavik said he will try to talk with them about the need.
"They are against any tax on owners and pilots on principle. But Indiana, Michigan, Pennsylvania -- all the states around us have one. They know we need the money," he said.
Slavik gave a brief example of how a longer runway captures more cash directly for the airport during a meeting of public officials Thursday to discuss the road projects.
A number of jet-setting NASCAR drivers were in the area this week for an event at Eldora Speedway in rural Darke County. The race track is owned by driver Tony Stewart.
Because pilots prefer to land on a longer strip, most of those attending the Eldora event flew into airports in New Knoxville and Versailles, Slavik said. The airport missed out on hundreds of dollars in fuel revenue, he said.