By Ryan Hines
rhines@dailystandard.com
Grand Lake pitcher T. J. Sheridan pitched seven innings of one-hit ball and the Mariners offense scored early helping the home squad to a 5-3 victory over Portland in nonconference action at Jim Hoess Field on Thursday night.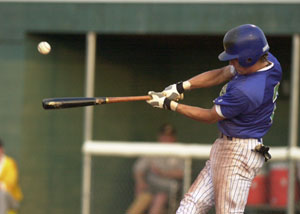 The Mariners are now 2-0 on the season while Portland falls to 9-3.
Sheridan had the second straight outstanding outing by a Mariners pitcher after watching Chris Fetter sparkle in the season opening win on Tuesday. Sheridan allowed two runs (one earned) to go along with five strikeouts.
Sheridan, who hadn't thrown in a live game for three weeks had mixed emotions about his inaugural start for the Mariners.
"I was happy that I only allowed one hit, but I wasn't really happy with the way that I threw the ball," said Sheridan, who was 6-1 for this past spring for Lemoyne College. "It felt good to get back out there for the first time in a couple of weeks and I didn't have great command tonight but overall it's a good start and something that I can build on." "T.J. did a tremendous job for us and for the most part was able to keep the ball down in the zone," said Grand Lake manager Mike Stafford. "I was pretty happy with his performance to go out there and throw seven strong innings and under 100 pitches. He gave us a chance to win the game and we were able to come through, a lot like on Tuesday."
"We're still adjusting to the wooden bats and a lot of these guys haven't played under the lights before, but their pitcher was in command out there and we didn't pose much of a threat," said Portland manager Randy Miller. "He's a good pitcher and I'm sure that they're expecting big things from him this summer."
Portland catcher Matt Steinke, a St. Marys native, broke up a no-hit bid by Sheridan in the fifth inning, which was when the Rockets scored their first two runs of the contest.
Sheridan got plenty of help in the early going from the offense as the Mariners were able to plate two runs in each of the first and third innings.
In the first, Ryan Keena led off with a single and stole second base before Scott Billak crushed a pitch to leftfield scoring Keena while Billak settled in for a double. Billak moved to third on the third straight hit to start the game by Kurt Loescher and clean-up hitter Ben Gaal lifted a deep flyball to centerfield to score Billak on the sacrifice fly.
In the third with one out, Gaal started the rally with a single to centerfield and then moved to third base on a single by Josh Dietz. With runners at the corners and two outs, Celina native Scott Boley came up clutch and plated two runs with a deep double to leftfield, giving Grand Lake a 4-0 advantage.
The Marines took a 5-0 lead in the fourth inning when Wayne Bond singled to lead off and later scored on the second double of the night from Billak.
The first four innings were solid for the Mariners offensively totaling 10 hits off Portland pitcher Nick Pfeffenberger, who's also a St. Marys native. The Mariners had just one hit in the final four innings of play off Van Wert native Korey Heppeard.
"I told the guys that our bats are a step better than they were on Tuesday and we hit some balls hard tonight," said Stafford. "Hopefully, as time continues, we'll be able to do this on a consistent basis."
"As a pitcher, it's really nice to be able to get some runs from the offense in the early going," said Sheridan. "It gives you even more confidence on the mound because you know that you don't have to throw the perfect pitch every time."
Keena had another outstanding day for the Mariners with two hits and three stolen bases while reaching base four times against Portland. In the first two games, Keena, who led the nation last spring in stolen bases for IPFW, has been an ideal lead-off hitter for the Mariners as he has reached base safely six times in the first two games and had six stolen bases.
Billak had two doubles and two RBI, Gaal had a single and double and Bond added a pair of singles as the multi-hit players for Grand Lake.

NOTES -- The Mariners will be without the help of a veteran summer pitcher as Craig Stammen will be unable to join the Mariners due to signing with the Washington Nationals after being drafted in the 12th round. Stammen is a graduate of Versailles High School and was a pitcher with the Lima Locos the past two summers. ... Along with St. Marys' duo of Steinke and Pfeffenberger, St. Henry's Lenny Koesters and Phil Bruns also started for Portland on Thursday. ... Forms for both the Grand Lake Mariners golf outing and mini-camps for kids can be found on the Mariners' website. For more infomration, go to http://geocities.com/mariners_baseball1990/index.html.
Phone: (419)586-2371, Fax: (419)586-6271
All content copyright 2005
The Standard Printing Company
P.O. Box 140, Celina, OH 45822