Mercer and Auglaize counties are not the only local airports vying annually for state, federal and community block grants for airport extensions and other improvements from an ever shrinking pool of grant money, says a state transportation official.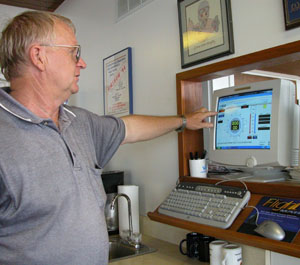 David Dennis, who heads Airport System Planning for the Office of Aviation at the Ohio Department of Transportation, said that in the 1990's, his office annually distributed more than double this year's $1.7 million in grant money to airports for improvements.
Ohio has more than 900 airports in the state, according to Dennis. They range from major metropolitan airports to small private landing strips, making Ohio the state with the most airports in the country.
There are 86 counties (at least two share an airport) in Ohio that are served by publicly-owned general aviation airports such as Neil Armstrong Airport in New Knoxville and Lakefield Airport near Montezuma. There are also 95 public-use airports and 23 public use heliports, over 700 private use airfields and more than 250 private use heliports.
A 1995 economic impact study, commissioned by ODOT, reported more than 25 million passengers annually and 138,000 people in Ohio who owe their jobs to airports, directly or indirectly. At the time of the study, it was estimated the annual payroll associated with aviation in Ohio totaled $3 billion and another $7 billion in economic activity per year was attributed to the aviation industry. Dennis said a new updated economic impact study has been commissioned by ODOT and is expected to be completed by July 2006. The study is being done by Wilbur Smith and Associates in Sidney.
Like most in the aviation and airport business, Dennis believes economic and airport improvements go hand in hand.
He said the Ohio Aviation Office considers Armstrong airport in Auglaize County as the model for other county publicly-owned airports.
Armstrong Airport Manager Gary Katterheinrich attributes that status to the "excellent support from the (Auglaize County) airport authority, the excellent support from the county commissioners and the excellent support from the community."
"The cooperation has been there," Katterheinrich said. "We communicate with each other well." He has been manager at the airport for 27 years and during that time the Armstrong runway has been extended several times.
"When I began, it was 4,000 feet long. The just completed expansion brings it to 5,500 feet," he continued.
The runway extension, new lighting, the moving of a road east of the airport to allow for the extra runway footage, the grooving of the runway surface better drainage, a taxiway and fencing cost a total of $1.9 million. It was paid for with several grants.
Katterheinrich said the airport authority banked grants of $300,000, a $500,000, and a Federal Aviation Authority grant as long as allowed so they could do the work at the same time and disrupt the airport less.
The airport has about 30 hangers, which are rented out to house about 10 corporate jets and private owners. Crown Equipment Corp. has had planes at the airport for years, and its representatives regularly sit on the airport authority board. There also are jets belonging to print companies, a machine company and a Columbus company, which is there temporarily.
Last month the airport sold about 4,500 gallons of gas, which Katterheinrich said was more than they sold during the first four months when the runway construction was underway. The airport's money comes from the sale of gas and rental of hangers.
At Lakefield Airport, which is trying to extend the runway and make other needed improvements, gasoline sales are about 1,800 gallons and its hangers will only accommodate smaller planes, so rental income is lower.
Katterheinrich also pays attention to his customers. When a jet lands with passengers, he has either a rental car or limo service he can offer, plus a list of places where they can eat, stay or see the sites. Then he said he takes care of the pilot and crew who may have to wait for a half day or overnight, before the return flight. The pilot may get offered the so-called crew car, which is owned by the airport authority, to get to sights or eating places while he or she is waiting.
He has decided to leave intact a fenced-in and graveled area close to the end of the new runway, which is accessible from state Route 219.
"I might put a picnic table there so people can pull in and watch the planes land," Katterheinrich mused. "They can't see anything from the office area."
Stopping along the two-lane road is not safe, he said. "We'll see how it goes. We can always grass it back in if it doesn't work."
The airport has a Web site, (www.neilarmstrong.com) now running live shots of planes pulling into the ramp area. The live ramp cam with streaming video was set up by one of the savvy college students working there, Katterheinrich said.
The airport manager still has a few things he would like to do in the next three years or so before he retires, he says. He would like to have a separate conference room or lounge area in the airport's office.
And after Katterheinrich's son left recently for another eight months in Iraq, he thought he might like to have an air show honoring the military and others like firemen and the policemen and policewomen who put themselves in harms way to help the community and the country.