By Margie Wuebker
mwuebker@dailystandard.com
NEW BREMEN -- Ballerina Betty curtsied and blew kisses to the crowd after being named Ms. Southwestern Auglaize County Relay for Life at the conclusion of a hilarious Friday night pageant.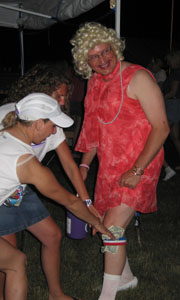 The reigning beauty, dressed in an inflatable costume complete with fetching lavender tutu, waddled across the stage at New Bremen High School's Cardinal Field amid cheers, wolf whistles and applause.
Betty, also known as Gary Truman of New Bremen, was one of many contestants in the pageant for men pretending to be women, which raised money for the American Cancer Society.
Her undisputed beauty and generous love handles earned her a place in contestant's row, but it was the $875.97 collected during 15 minutes of begging and arm twisting that landed the Curves instructor wannabe in the winner's circle.
"I wasn't sure about taking part in this pageant with the other babes," Truman said following the memorable coronation. "I begged him to enter," his neighbor, 8-year-old Ashley Berning, admitted with a chuckle. "And he couldn't say no."
Mayor Madonna (Jeff) Pape finished as first runner-up and won Ms. Congeniality honors to boot.
Dressed in a perky orange dress and sporting a red, white and blue garter, the contestant indicated his three goals in life are driving a Ferrari, world peace and finding a cure for cancer.
While waiting for the judge's decision, Madonna crossed her legs in rather risque fashion and munched Hot Tamales candy plucked from a fashionable handbag.
"I think this competition will help the mayor's political career," spectator Rebecca Vordemark said with a broad smile. "Now he can see issues from a male as well as a female perspective."
Ms. Lola Scarlet, also known in the New Bremen area as Jim Kaiser, let a faux mink stole slip from her shoulders as she put a gloved hand to her rouged cheek. She came in as second runner-up and best dressed.
"Ooh, this is such an honor," Kaiser said demurely adjusting her red satin cocktail dress. The accomplishment is one more achievement to add to her "well-rounded" resume that includes Hooter's Employee of the Year and Miss Melon distinctions in 2004.
She plans to continue using her many assets to achieve world peace and find a cure for cancer.
Lola Scarlet's dancing buddy Miss Bodacious Buckeye, also known as Mark Oen, earned Best Legs honors.
"I bet you would kill for a body like this," Oen called to the audience. One woman seated on the bleachers put a hand over her heart before declaring "Look out Dolly, you've been upstaged."
Carrying red roses, sporting Ohio State University tattoos, batting false eyelashes and maneuvering remarkably well in red 3-inch heels, the contestant needed no time to think before responding to the question "What is your best asset?"
"Like I really need to answer that," Bodacious answered matter of factly striking a pose for a legion of fans. "We need to find a cure for cancer and find a means to achieve world peace. Go Bucks!"
Rounding out the bevy of prize-winning beauties was Jamie Coconuts, also known as Jim Kronenberger. Clad in a grass skirt and coconut bra, the Miss Photogenic recipient admitted dealing with long blonde hair proved to be a challenge.
"This hair keeps getting in my mouth," the emergency medical technician said brushing away wayward strands. "I just don't know how women deal with it."
Entertainment chairman Mary Herriott called all the contestants good sports willing to have fun for a good cause. Rounding out the field of eight were John Schwartz as Juanita Fire Pants, Tom Naseman as the Lady in Red and last but not least Adema, a mystery candidate who refused to reveal his true identity.
"It takes a lot of guts to get decked out like women and parade in front of friends, family and co-workers," mistress of ceremonies Jenny Woehrmyer added. "At 11 o'clock at night, we all need some laughs."
The contestants raised $1,791.92 in donations from the audience. Overall, the Relay for Life in New Bremen brought in an estimated $135,000 for the American Cancer Society, eclipsing the 2004 total of nearly $115,000.