By Margie Wuebker
mwuebker@dailystandard.com
Pastor Jeff Smalley marks Father's Day 365 days a year even though cards and gifts don't arrive until the third Sunday in June.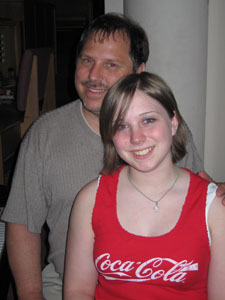 Smalley, who came to Celina nearly a year ago as associate pastor of St. Paul's United Methodist Church, considers love and life his greatest blessings. Each comes at a stiff price not measured in dollars and cents.
"My dad (Richard Smalley of Columbus) taught me the importance of unconditional love even when you screw up, patience and looking at things from different perspectives," he says. "Dad taught his three kids by example, and he never missed school functions like plays and concerts."
A lighted peace sign on a Franklin County home sparked a lesson that has supported his son in times of happiness and sorrow.
"I remember Dad's comment that peace comes at a price with considerable sacrifice," the 47-year-old minister says quietly. "I didn't realize the importance of those words until later." Smalley graduated with a music degree from Ohio State University in 1980 -- the same year he married Kathy, his high school and college sweetheart. Parenthood proved to be an elusive dream for nearly a decade until Joshua Matthew arrived July 12, 1990, weighing in at 9 pounds.
"Kathy has been a diabetic since the age of 18 so this was a high-risk pregnancy," he explains. "I was there in the delivery room during the C-section, and Joshua's cry was like music to our ears."
He remembers holding the pink-cheeked baby and dreaming of future milestones -- first words, unsteady steps, Little League hits, high school days and career choices.
"We had so many dreams for this little guy," he says proudly displaying a wallet photo. "Our dreams died July 19, 1990, just two days after we brought him home."
Doctors could offer no explanation why a healthy baby turned limp and lifeless in the middle of the night. They attributed the tragedy to sudden infant death syndrome.
In the midst of his grief, Smalley called out to God to fill the overwhelming emptiness. His prayers were answered not once but twice.
He had been involved in the church as music director and Sunday school teacher for 11 years, but the calling to the ministry grew stronger with each passing day. He left a successful career as a computer programmer to embark on a new path.
A second pregnancy, fraught with diabetic complications, ended jubilantly July 25, 1991, with the birth of a daughter named Lauren. She arrived six weeks early weighing in at 7 pounds.
"We chose the name Lauren because it means victorious one," he says. "She truly is our victory over the pain of loss."
Smalley took the baby home within the week while his wife remained hospitalized. An apnea monitor served as a sentinel watching for any sign of breathing difficulties. Fortunately, the only shrill warnings proved to be false alarms.
"Jeff fit into the role of proud father without the slightest hesitation," Kathy Smalley recalls. "Their first outing to church drew considerable attention. He dressed Lauren for the occasion complete with headband. One of the women in the congregation pointed out a headband is designed to go around the head instead of under the chin."
Health problems continued to plague his wife leading to the amputation of a limb and numerous dialysis treatments to combat kidney failure. Death seemed imminent on several occasions, but they weathered each bump in the road.
"Things are going well for us now, and we just enjoy being a family," he says. " There are times in spite of all my blessings when I see teenage boys and wonder what Joshua would have been like. Someday we will meet again for eternity."
Lauren Smalley, who turns 14 in July, shares her father's love of music as well as a rebellious streak he once exhibited during the challenging teen years.
"He's a pretty good dad even if he tends to preach a little too much," she confesses with a giggle. "What can you expect from a minister?"
The room grows quiet as he searches for the right words.
"I'm so glad to have a daughter. She's unique in her own right and not a replacement for the son we lost. Lauren enriches life and that's why every day is Father's Day as far as I'm concerned."