By Gary R. Rasberry
grasberry@dailystandard.com
The Grand Lake Mariners jumped out to a 3-0 lead, then needed several big defensive plays to hold off the Lima Locos for a 3-2 win at Jim Hoess Field on Tuesday night.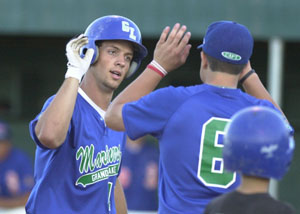 The Mariners improve to 5-1 overall and 2-0 in the Great Lakes Summer Collegiate League. The Locos, the defending tournament champs from last season, fall to 1-3.
The Mariners got all their runs in the first four innings with a combination of using small ball and a home run to bring its trio of runs across.
In the second, Michael Ayala doubled off Loco starter Greg Gompf and Jedidiah Stephens followed with a walk. Kris Moorman moved the runners up one base and Kurt Lauscher singled to bring home a run.
In the second, Wayne Bond tripled to right. After back-to-back groundouts and a walk to Scott Billak, Ayala hit his second double of the day, one-hopping the fence in right for a ground-rule double to make it 2-0. Moorman, who has had success hitting against Lima pitching in his first two years with Grand Lake, struck again in the fourth. Moorman hit one deep to left and Locos leftfielder Drew Fahey appeared to be camped under the ball in deep left, but then turned around, took a few steps and watch the ball sail over the scoreboard for Moorman's first dinger of the season.
"I hit it right on the sweet spot," said Moorman. "You use a wood bat and hit it on the sweet spot, you don't feel the ball. I knew I hit it really high in the air. I saw (Fahey) camp under it, so I didn't know if it went out or not. Fortunately, it went over the wall."
"Kris had a nice shot," said Mariners coach Mike Stafford. "Then he made a great play in front of the dugout on a foul ball (in the fifth, ending a potential Lima rally). I was happy with Kris' performance."
Meanwhile, the Mariners were getting solid pitching from T.J. Sheridan. The Leymone College product overcame a start of hitting the first two batters by getting out of the jam and holding the Locos to two hits over his five innings of scoreless work.
Kevin Marrie came on in the sixth and held the Locos for 1 2/3 innings until Parkway grad Galen Schumm singled and dashed to third when Bond misplayed the hop in rightfield. Ryan Perry singled home Schumm to cut the Mariners lead to 3-1.
In the eighth, Marrie walked Don Cheney and Michael Santowski to lead off the inning. After Bryan Chandler and Sean Boley both grounded out without scoring a run, Stafford brought in Dan Weiss to get out of the inning but R.C. Dickerson singled to right. Cheney scored easily and Lima coach Rob Livchak waved Santowski home but Bond made a nice play and threw a perfect shot to Josh Eachues at home to tag out Santowski to end the inning.
"Wayne pretty much saved the game," said Stafford. "If (Lima) scored that run (to tie the game), the momentum would have been on their side. In this league, and in the Grand Lake-Lima rivalry, anything can happen. Wayne made a perfect throw. He came up clean with the ball, threw a strike to Josh and he tagged the runner out."
Stafford was happy with his pitching, much like he has every game this summer to this point.
"Once again, we pitched the ball tremendously," said Stafford. "T.J. gave us a good start with five innings. Kevin came in to get his feet wet and threw a pretty good game. He started to lose a little bit at the end there, but I think Kevin is going to be our closer this year, so I wanted to get him some work. Dan came in a big situation and got the job done. That's all you can ask."
The middle of the Mariner lineup -- Ayala, Stephens and Moorman (the four, five and six hitters), did the damage on the night, going 6-for-10 with two runs scored and two runs batted in.
"This is one of the biggest rivalries in the Great Lakes League," said Moorman, who was 2-for-3 in the game. "I've just been fortunate enough to get a couple of good pitches to swing on."
Schumm finished the night 1-for-2 with a run scored. Boley, making his return to Celina after playing in the spring for the University of Toledo, was 1-for-4.
The Mariners travel to Ned Skeldon Stadium in Toledo tonight to face Lake Erie. The Mariners return Thursday to start a string of five straight home dates with Delaware at 7:15 p.m.