By Shelley Grieshop
sgrieshop@dailystandard.com
It was a puzzling problem, but Paul Bills knew sooner or later he'd find the perfect home when he moved back to Mercer County from Florida five years ago.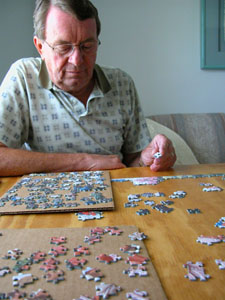 dailystandard.com">
He and his wife, Rita "Jean," didn't need much space; their children were all grown up and out of the house. But their excess baggage -- dozens and dozens of completed puzzles -- longed for a big, bare display wall.
"We needed just the right home with just the right wall," says the Chickasaw native with a grin.
They found their perfect nest on Bruns Avenue in Celina. A beautiful ranch home, and more importantly, a basement with an extra-long cement wall to hang 67 finished jigsaw puzzles.
Putting puzzles together became a hobby for the couple when they lived in Florida from 1990-2000. "We always had one going in our lani room," he says, describing the screened-in porch area of their former home.
Each puzzle consisted of 1,000 pieces and all were as unique as the shells on the beach. Like a NASCAR pit crew, the husband and wife team had a fine-tuned system.
As she sorted out the pieces, he put together the outside frame. She spearheaded the projects, dividing the twisted shapes by color, separating the groups by placing each on an 8-by-10-inch sheet of cardboard.
"It's hard to say how much time we spent on any one of these puzzles," says Bills, 70, who retired from Reynolds & Reynolds in Celina after more than 29 years. "It depended on the weather, if conditions were bad we'd get a lot more done."
After the couple's 10-year stay in Florida, they moved back to Mercer County with puzzles in tow.
"We chunked them," Bill says with a sheepish look on his face.
To save themselves time later, the couple kept the puzzles partially intact in chunks and fit them back into their original boxes, Bills explains, sounding like a student caught cheating on an exam. Apparently the action is taboo to puzzle connoisseurs.
After settling into their Celina home, Bills began using glue and a caulking gun to permanently adhere the puzzles to the basement wall. When he shared his idea of placing the colorful masterpieces onto the floor, too, his wife put her foot down, he says.
In respect for his wife's wishes, the ones on the floor have not been permanently adhered. Jean, as her friends and family know her, passed away in December.
A quick glance around the basement tells visitors that puzzles don't all have corners. A splash of purple, pink and every color in between, dots a peacocked-shaped, peacock puzzle. A few yards away, a curvy swan swims; nearby is a great blue heron. A bear, with camping scenes pictured on his hairy frame, captures attention on a second wall.
And of course there's the traditional rectangular ones.
Jean loved cats, so pointy ears and whiskers are visible on many puzzles including one with a tabby sitting pretty in a high chair. An old-fashioned Pepsi collage is one of his favorites, but then so are several of the village scenes and pictures of railway train depots.
The couple purchased many of the puzzles in Florida as well as here in Mercer County, Bills says, adding "the bright ones are much more fun."
"The kids gave me a 5,000-piece puzzle but I gave it to a friend," Bills says laughing. "I didn't want any part of that."
When the couple moved back to the area, they quickly set up an official puzzle table in the spare room near a window where they could watch traffic heading down the street. A Ravensburger-brand puzzle begun by Jean last November remains unfinished on the small card table.
In a nearby closet are several puzzles awaiting freedom from their boxes. Included in the mix is one that pictures only a sea of golf balls -- a nightmare of white.
"That will be a dandy," Bills says with a laugh.
Some people spend hours putting puzzles together only to sell them at garage sales or give them away. Bills isn't quite sure why he doesn't part with his collection, but perhaps it's because the completed pictures remind him of the loving hours he spent with his wife of nearly 50 years.
Sharing the couple's hobby with others keeps her close to his heart; the unfinished puzzles remind him of the road ahead.
Life is sort of like a puzzle, he says. It comes together one piece at a time.