By Gary R. Rasberry
grasberry@dailystandard.com
ST. HENRY -- After losing their first game in Mercer County ACME circuit action on Monday to Coldwater, the Parkway Panthers were looking to bounce back in league action on Wednesday against St. Henry.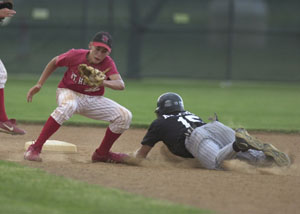 Parkway scored three times in the third and put the game away with seven more runs in the fifth on the way to a 12-1 win over the Redskins at the Wally Post Athletic Complex.
The Panthers improve to 11-3 overall and 6-1 in the county circuit while St. Henry falls to 5-7 and 1-3 against county teams.
The key to holding the Redskins to one run on six hits was the performance on the mound by Tyler Brickley. The senior-to-be continued to be one of the dominant pitchers in the summer, striking out 11 and walking four over six innings to get the win. Steve Hays came in to pitch a scoreless seventh.
"He's been pitching like that all summer," said Parkway mentor Mike Moorman about Brickley. "He's one of those guys who comes back every five days for the most part. He's been our ace." "He was on his game," said St. Henry coach Joe Wourms. "He pitched a heckuva ballgame. He kept us off-balance all night. He had his curveball working, threw for strikes when he needed to and threw it in the dirt when he needed to. He was bringing his fastball pretty good and threw it past some of our batters. He had us guessing all night."
Parkway held a 3-0 lead going into the fifth when the Panthers put the game away for good. Rikki Covarrubias led off the inning with a single off Brent Bills and Jordan Heckler followed by reaching on an error. With one out, Derek Snyder singled home Covarrubias and Hays drove home Heckler with a single.
Jordan Thompson reached on an error and after the second out of the inning was recorded, Jensen Painter reached base on a fielder's choice. Kyle Hamrick was hit by a pitch with the bases loaded to make it 8-0.
With Covarrubias back up for the second time of the inning, the pitch got past catcher Mike Gast but was recovered quickly. It looked like Thompson was hung up, but Gast's throw to third was in the dirt, allowing Thompson to score. Covarrubias walked to load the bases again. Shaffer added a RBI single to close out the scoring in the crucial seven-run inning.
"It's been like that the whole year," said Moorman of the Panthers' 12-hit attack. "One-through-nine, we're pretty solid. No real weak points in the lineup. They're aggressive and buying into our gameplan. That's why we're on a roll right now."
St. Henry staved off the run rule in the bottom of the fifth. Pinch-hitter Jared Huelskamp led off with a single and went to third thanks to two Brickley wild pitches. Gast drove home Huelskamp with a groundout to prevent the run rule, but Brickley did not allow another run in the game.
The final two Parkway runs came in the seventh as Shaffer completed a 2-for-5 day with a double to score Covarrubias and Heckler for his third and fourth runs batted in.
"This was a big game for us, especially coming after the Coldwater game," said Moorman, referring to Monday's 2-1 extra-inning loss to the Cavs. "We beat St. Marys (on Tuesday), it showed even more to make it two in a row."
Hays went 3-for-4 with two RBI for Parkway while Snyder and Covarrubias joined Shaffer with two hits apiece.
Jay Woeste paced the Redskins with a 2-for-3 game.
Parkway looks to keep up the good times tonight as the Panthers travel to Eastview Park to face Celina. St. Henry heads east tonight to play Bellefontaine in a non-league contest.
Phone: (419)586-2371, Fax: (419)586-6271
All content copyright 2005
The Standard Printing Company
P.O. Box 140, Celina, OH 45822