By Shelley Grieshop
sgrieshop@dailystandard.com
The bond that ties military families sometimes leads to random acts of kindness that are never forgotten.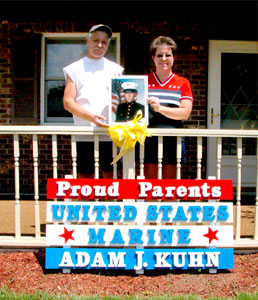 Two Celina families -- the Kuhns and the Fennigs -- have that bond and much more. Still, Brenda and Jim Kuhn were stunned when longtime friends plopped a 51-inch-by-24-inch sign in their front yard to acknowledge their son, Adam J. Kuhn, who was deployed to Iraq in February.
"It's just beautiful," smiles Brenda Kuhn. "We envisioned something smaller."
Several months ago, Brenda Kuhn asked her friend, Cheryl Fennig, if she and her husband, Phil Fennig, could make a military support sign to place in the yard of their Devonshire Drive home. The sign would proudly tell the world that Adam, a 19-year-old U.S. Marine, was away serving his country.
The Fennigs, who reside on North Main Street, are woodworking enthusiasts and decided they could put something together for all their dear friends. Although their son, Rick, was back home after serving in Desert Storm with the U.S. Navy, they understood why the Kuhns wanted to share their pride. The families' paths crossed many times through the years. The women previously worked together at a local nursing home; the men were co-workers at the former Huffy Bicycle Co. Both are currently employed as maintenance staff at Celina City Schools.
So the Fennigs got busy in their large backyard workshop.
"Phil and I got to bouncing ideas off each other," says Cheryl Fennig, 60, a registered nurse. "It was originally going to be just a small sign on a piece of plywood."
Known for their artistic woodworking talent, the couple just couldn't do anything ordinary. So they went the whole nine yards. They decided to use cottonwood -- a sturdy wood but not heavy so the Kuhns could easily handle it. Each letter was cut four inches tall and an inch thick, painted red, white and blue, and placed on four cottonwood planks with the same patriotic colors in mixed contrast.
"I spent one Saturday doing nothing but cutting out letters," says Cheryl Fennig, a master of the couple's scroll saw.
An old stair railing provided the right support behind the sign.
"We just use what we have sitting around," Phil Fennig adds with a grin.
About 120 screws and 10 hours of painting later (each letter took three coats of paint), the sign was near completion. When the Fennigs brought the sign to the Kuhns' home three weeks ago, Jim and Brenda couldn't believe their eyes.
"It's much more than we imagined," Brenda Kuhn says, adding the size of the rectangular sign is easily read from the street.
Getting a little teary-eyed, she recalls the day Adam, a 2004 Celina High School graduate, called from overseas to tell her he had been wounded in action. Eight hours later, the infantry mortarman was back in action, she says.
"It's hard not knowing where he's at or what's going on. We miss him so much," she adds.
Adam Kuhn left for Iraq in February, is due back in October, but may have to return to the war next year, his mother says. The couple's other son, Eric, now 24, previously served in the U.S. Navy.
Jim Kuhn says the support and prayers the family receives from local residents is overwhelming. For example, a teacher at East Elementary, Lory Speck, spearheaded a care package drive at the school recently and sent 15 boxes of supplies to their son. Another friend, Barb Porter, made yellow ribbons for the Kuhns' front porch.
"It's just been incredible," he says, adding no one would take reimbursement including the Fennigs.
Soon after the sign appeared in the Kuhns' yard, cars began driving slower around the bend near their home, taking note of the new lawn decor. Recently a woman walked by and paused briefly to read the message.
Brenda Kuhn can't help smiling and thinking of her youngest child as she recalls the lady's comment.
"She wanted to thank me for having a son out there to protect us," she says.